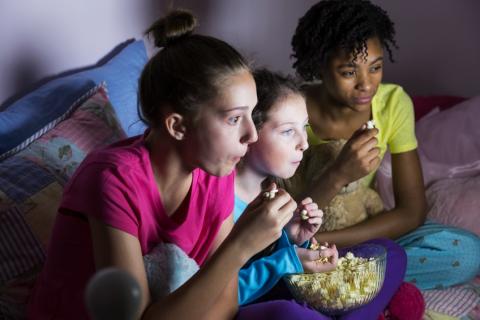 Stand Up to Toxic Campaign Rhetoric!
"Hillary Clinton should be put in the firing line and shot for treason."
"She is a piece of garbage."
This is how New Hampshire state Representative Al Baldasaro described Hillary Clinton in a radio interview from the Republican National Convention in Cleveland today.  
Unacceptable. 
His comments are drawing widespread criticism as one of many recent examples of toxic hate speech that is becoming all too pervasive in this election season. It's almost like some leaders have forgotten that children are listening. 
As mothers, when we hear comments like this, we instantly think about what we have said to our children about how to respond to bullying: Tell an authority figure what's happening and take whatever action you can to protect yourself.  
In this case, the powerful action we each have within our control is VOTING — and letting people know you're voting to stand up against bullying doubles your power because it inspires others to vote too.
*Take action! Pledge to vote this November and share this pledge on Facebook and/or Twitter too to inspire others to stand up against hate.
Bullies thrive on thoroughly shocking and disarming you so that you become unable to respond.  For this reason, the most powerful thing we can do right now is to show this type of bullying won't work on us. In fact, it will only mobilize people to vote in a way that reflects our values and protects our children from a constant barrage of future hate speech. Let's make the bullies think twice about their tactics!
Join me in pledging to vote this November no matter what! 
This election has us thinking about what we will say to our children and future grandchildren if they ask us what happened to our democracy and to civility in 2016.  
We've been bombarded with so much toxic hate speech this election season that seeing it in the news is becoming the new normal. People are hardly seeming to even notice anymore when the next bullying remark shows up on TV. 
But we notice when it shows up in our kids. 
Words matter. Words set the parameters of civil behavior in our nation, which impacts how kids behave. Moms know this. Dads know this. Some leaders just don't seem to care.  
Let's protect our kids, make a strong statement that their bullying doesn't work on us, and show that these hateful tactics are only making us more determined to vote in November! 
In addition to encouraging voter registration and turnout, MomsRising is a proud member of the #NotOnOurWatch coalition that stands up against toxic hate that harms our children and our democracy.  Learn more about #NotOnOurWatch and spread the word today!