Take Action!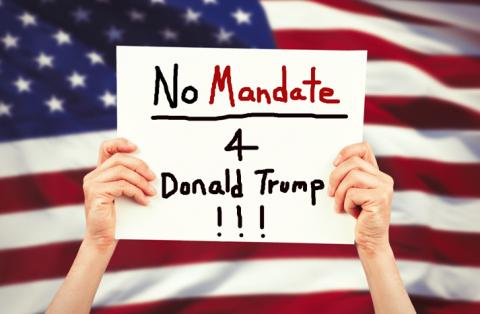 Stand Up, Speak Out Against Trump's Anti-Family Cabinet Appointees
Donald Trump became President-Elect because he prevailed in the Electoral College, but Hillary Clinton won the popular vote by more than 2.6 million votes.
In other words, the American People did not give Donald Trumpa mandate to enact an extremist agenda aimed at destroying some of our most critical government programs, including healthcare, public schools, and civil rights. But with his cabinet nominations, Trump shows us that that's exactly what he intends to do. 
Moms and family members will not stand for it.
It's up to Congress to advise and consent on White House cabinet decisions. Join us in telling U.S. Senate leaders that Trump does not have a mandate to tear down America's most important institutions -- they must stand up for our nation by NOT rubber-stamping Trump's outrageous appointments! http://action.momsrising.org/sign/oppose_trump_cabinet/
 
Taken together, President-Elect Trump's appointment choices to date present a significant threat to our democracy, to the people of our country, and to our economy. It's awful on a number of levels, including that Trump promised his voters over and over again that he'd "drain the swamp," but instead he's filling it with alligators.
The short list includes:
Rep. Tom Price, nominated for Secretary of Health and Human Services. Price has made dismantling the Affordable Care Act a landmark goal of his political career, with the stated goal of kicking nearly 20 million Americans off health care coverage and forcing people with pre-existing conditions into an expensive and unnecessary fight for their lives.  
Betsy DeVos, nominated for Education Secretary. DeVos is a leading proponent of schools vouchers, and her assuming that role would put her in a position to chip away at one of the most fundamental cornerstones of civil society: public education.
Senator Jeff Sessions, nominated for U.S. Attorney General. Sessions has a record of racist rhetoric and was previously rejected by the Senate Judiciary Committee over his embrace of policies that would undermine basic civil rights, a deeply disturbing background for man who will be the chief legal defender of the rights of all Americans as the U.S. Attorney General.
Andy Puzder, nominated for Labor Secretary. Puzder's consistent eagerness to prioritize corporate profits over the local economy and welfare of workers  - the very people he would be tasked with protecting as Labor Secretary - will have very real and serious negative consequences for America's workers, families, and our economy.
Steve Bannon, selected to be incoming chief White House strategist. As a propagandist for white supremacy, he'll be bringing sexism, anti-semitism, homophobia, racism and transphobia with him to the Oval Office.
Selecting cabinet leaders who have a history of being anti-healthcare, anti-public school, anti-civil rights, anti-worker, and pro-white supremacy is not the America that the majority of Americans voted for.
Tell U.S. Senate leaders that Trump does not have a mandate to remake America in his own nightmare vision -- and now is the time to stand up against these outrageous appointments by Trump and for all the families in our nation! --> http://action.momsrising.org/sign/oppose_trump_cabinet/
Donald Trump's appointments make it clear that he will govern by pushing an extreme right-wing agenda that threatens to destroy the fundamental fabric of our country, our economy, and our communities.
To this we say: Not on our watch!
 
Moms and dads, and people across the nation, know that white supremacists should be nowhere near the White House; that politicians with a history of advancing racist policies should not be responsible for protecting our civil rights; and that health care and education work best when everyone has the opportunity to take part in the process. Donald Trump may have won the electoral college vote, but he lost the popular vote by one of the widest margins in history.  
Donald Trump does not have a mandate! Tell Senate leaders he cannot be allowed to tear down some of our country's most critical programs. Urge them to stand strong for our nation.
MomsRising and our more than one million members from the Atlantic to the Pacific will continue to oppose Trump's extremist direction, including nominees that hurt our families and economy. We'll grow this movement, and raise up the voices of moms and families FROM every state, FOR every person, both on-the-ground and online. We won't stand idle.
Together, we'll never stop fighting for real solutions to our country's challenges -- solutions that treat all Americans equally and fairly, that boost our economy, and that lift our nation.
Thanks for standing with us against Trump's nominees, and for being a part of our movement.