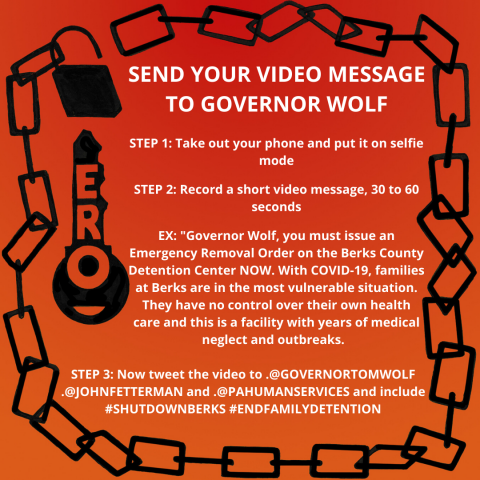 Stand Up For Families Detained In Berks: COVID19 Action
Are you familiar with the Berks County Detention Center?
It is one of three family prisons in the country holding immigrant families. Babies as young as two weeks old have been held there, with families spending two weeks to two years in this unlawful prison. Incarcerating families is not immoral it's illegal.
With things shutting down due to COVID19, we know that families at Berks are in the most vulnerable situation. They have no say or control over their own health care. And this is a facility with years of medical neglect and outbreaks. But it doesn't have to be this way. The Governor could shut this prison down right now by issuing an Emergency Removal Order.
Would you be willing to send a video message / tweet at / instagram / make a call / write an email to the Governor today?
Hola, soy_nombre______ trabajo con _________.
¿Conoces el centro de detención del condado de Berks?
Es una de las tres cárceles familiares en el país que alberga familias inmigrantes. Allí se han mantenido bebés de hasta dos semanas de edad, y las familias han pasado dos semanas hasta dos años en esta prisión ilegal. El encarcelamiento de familias no solo es inmoral, es ilegal.
Con el cierre de las cosas debido al corona virus sabemos que las familias en Berks se encuentran en la situación más vulnerable. No tienen voz ni control sobre su propia atención médica. Y esta es una instalación con años de negligencia médica y brotes. Pero no tiene por qué ser así. El gobernador podría cerrar esta prisión en este momento emitiendo una orden de expulsión de emergencia.
¿Estaría dispuesto a enviar un mensaje de video / tweet / instagram / hacer una llamada / escribir un correo electrónico al Gobernador hoy?
Con COVID-19 extendiéndose rápidamente, las familias no están seguras en detención. Exigimos al gobernador Wolf que emita una orden de emergencia al centro de detención del condado de Berks AHORA. #ShutDownBerks https://t.co/kASYSdt9Qv

— MamásConPoder (@MamasConPoder) March 16, 2020
With COVID-19 quickly spreading, families are not safe in detention. We demand Governor Wolf issue an Emergency Removal Order on the Berks County Detention Center NOW. #ShutDownBerks https://t.co/wLVXDZXASi pic.twitter.com/hr5tTjlu1V — MomsRising (@MomsRising) March 16, 2020