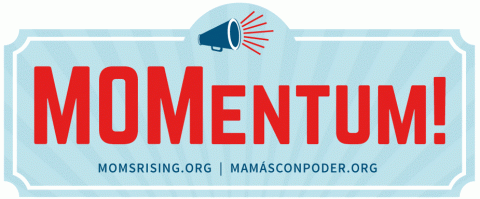 Spooky Scary Super October MOMentum!
Happy October! This month has been overflowing like a Halloween candy bowl with progress and wins by and for women, moms and families! In this month's newsletter you'll find good news from North Carolina on earned sick leave, terrific photos and messages from MomsRising supporters energized to volunteer for our get-out-the-vote work, and a note on a special email coming your way soon. Read on for plenty of treats!
- Anita
P.S. As always, we love to hear your feedback. What do you love about being a MomsRising supporter? What do you think we should tackle next? Send your thoughts to me, anita@momsrising.org. Thank you!
SAFE DAYS FOR NC
MomsRising NC Campaign Director Beth Messersmith (second from the right) alongside NC Gov. Roy Cooper signs as he signs the Executive Directive for "Safe Days."
Earlier this month, NC Governor Roy Cooper signed an Executive Directive allowing state employees to access earned sick and vacation leave to deal with the impacts of domestic violence, sexual assault, or stalking on themselves or a family member. These Safe Days will allow state employees to take the steps they need to protect themselves and their families. As the Executive Directive states, "taking the necessary time to recover emotionally, physically, and financially from domestic violence, sexual assault, or stalking should not jeopardize a survivor's ability to remain in the workforce."
YOUR generosity fueled this victory for North Carolinians. When moms like you rise, everyone wins — thank you!
MOM-TO-MOM POWER 
Thanks to donors like you, over 5,000 enthusiastic MomsRising members were able to send tens of thousands of handwritten, mom-to-mom postcards to remind infrequent mom voters in Virginia to be voters this year! These notes energized MomsRising volunteers during the 2018 midterm elections. Now your generosity is sparking a new wave of mom-to-mom voter power!
Here are a few highlights from the 2019 election MOMentum YOU made possible:
More MomsRising supporter love for our postcard campaign:
"I mailed my postcards today and took this photo but wasn't sure where to send it. I am a British Citizen and can't vote so this is my small attempt to be involved in the democracy of the US. Although I'm a British subject I have lived in the US for many years. I have American children and grandchildren and so my small contribution benefits them and hopefully others too. I appreciate all you do!" —Jeanette
Thirsty for more? Check out these inspiring #CantWait2Vote tweets and Instagram posts.
COMING SOON
Dec 3 | Giving Tuesday Keep your eye out for a special celebration email from us!