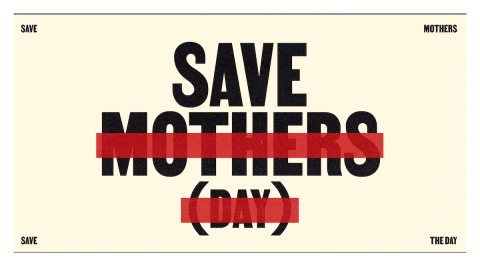 Special Mother's Day edition of 5Actions: Friday, May 12, 2023
This is a special Mother's Day edition of #5Actions! We are looking forward to celebrating with all the moms and like-moms in our lives on Sunday and we hope you are too! But we all know that Mother's Day is about more than brunches, flowers, and chocolates – it's a time we take to honor the moms and caregivers that lead our families, communities, and our nation every day.
So while you're celebrating this weekend, please join us online in taking #5Actions (plus a couple postscripts!) in honor of moms. When you scroll down below, you'll find actions and opportunities to be engaged, including a petition to support the many policies moms and families need, an ask to share a personal story about being a mom or in honor of a mom, some awesome gifting items and so much more!
BONUS: Check out the P.S. for a Mother's Day video from MomsRising – you're going to want your sound on for this one!
-- Taylor, Nate, Jenny and the rest of the MomsRising.org & MamásConPoder Team
Who Will Save Mother's Day?
Mother's Day isn't dying—mothers are.
While others ignore the 40% spike in maternal mortality, we won't look away. We are MomsRising, and we have a plan to save moms. By amplifying moms' voices, we'll demand maternal justice everywhere—from the doctor's office, to the workplace, to the halls of government.
When our solutions focus on the most impacted moms and tackle the problem from every angle, all moms rise.
Tell Congress to pass the Black Maternal Health Momnibus Act and support moms' right to equitable care before, during, and after delivery.
Did you see our full page ad in the New York Times today?
To honor moms and caregivers this Mother's Day, we've published a special message in the New York Times, and you can sign on too! To truly make moms and families happy, and to improve our lives and economy, every member of Congress must honor the work that moms, dads, daughters, sons, parents, and other caregivers do every day through: Support for Early Care and Education, Safety for Children and Families, Stronger Schools, and Healthier Children and Families. Click to read and sign on to the whole message!
Sign onto our message honoring moms and caregivers!
STORIES WANTED! Will you share a story for Mother's Day?
Can you believe it's already mid-May, and Mother's Day is this Sunday, May 14, only a few short days away? This Mother's Day, MomsRising is giving thanks for this community, and honoring the work that moms and caregivers do every single day. Mother's Day is a complex day that can evoke a range of emotions. While it is a time to honor and celebrate mothers, it can also be a difficult day for those who have lost their mothers or have complicated relationships with them. We understand that everyone's experience is unique, and we welcome and honor ALL your stories and feelings.
Share a story about being a mom, or in honor or memory of a mom today!
MomsRising limited edition merch, here for Mother's Day and beyond!
Still looking for the perfect gift for Mother's Day? While it may not arrive by Sunday, it's not too late! We've got you covered with our limited edition merchandise! You can rest assured that all the moms and like-moms in your life will feel special and celebrated with a gift that uplifts moms and caregivers. And you can feel great about gifting these pieces, as the contributions will support MomsRising's mission of increasing family economic security, decreasing discrimination, and building a nation where both businesses and families can thrive.
Browse Limited Edition Merch Now!
For Mother's Day, Honor or Memorialize a Mom You Love!
Honor a mom who inspires you in big or small ways, or memorialize a mom you love with a gift that supports MomsRising Together -- the movement that stands up every day for women, moms and families. We've put together a web page that makes it easy, and you can announce your gift immediately with a selection of updated, beautiful e-cards.
Make a Mother's Day donation to MomsRising Together TODAY!
P.S.– Did you see our Mother's Day video? Please watch and share. While you're there, you can read why moms are rising to demand our freedom – and join us!