We Are MomsRising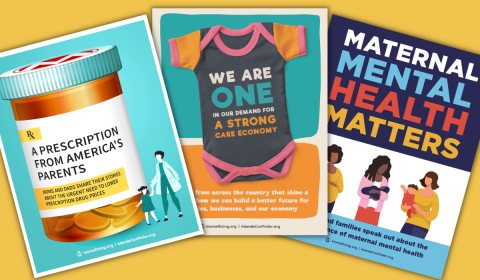 SPECIAL DELIVERY: MomsRising Storybooks Delivered to Congress
This week, we delivered three hard copies of different storybooks to every member of Congress to celebrate the stories and advocacy of our incredible members. These storybooks include stories of families from across the country that highlight the critical need for investments in our Care Economy.
These stories demonstrate the need to: lower prescription drug prices; invest in critical improvements for maternal health; provide paid family & medical leave; make child care affordable; permanently expand the CTC; address Black maternal and infant health disparities, invest in home- and community-based services; and create a path to citizenship for immigrants.
Families across the country are grappling with the financial uncertainty brought by the COVID-19 pandemic, higher prices, and the lack of supports needed to provide care for their loved ones.
Families like Mackenzie's in New Hampshire:
"Recently my mom was hospitalized because of a stroke. She has a brain tumor that needed to be looked after and will eventually be removed. I needed to take time off of work to care for her, but I am pregnant and trying to save up vacation time and sick time to use as maternity leave. I was forced to use vacation time and cut into what will be used as my maternity leave. Without paid family and medical leave, many folks in my generation will be forced to leave the workforce or face financial strain while they care for their parents and/or their children."
And Carolyn's in Michigan:
"My daughter has had type 1 diabetes since she was 15 years old. She is now developing complications due to diabetes (the first signs of diabetic retinopathy and effects on her kidneys). She uses an insulin pump. The cost of insulin is exorbitant and for many people, like my daughter, the cost of her medicine is way too high, and yet she requires it in order to stay alive."
And Magdamar in Florida:
"Due to lack of good quality and affordable childcare I have simultaneously worked 40 hours a week while also taking care of my 1-year-old daughter. This is not sustainable and it's affecting my mental health. The childcare places around me are overcrowded and understaffed. They often get closed due to COVID outbreaks and there is no mask wearing or vaccination requirements among the staff. I do not qualify for tuition vouchers to help with the costs of childcare due to my income but my income is not enough to cover my bills and also quality childcare."
You can view digital copies of the books, and read more stories, at the links below: