Speaking in Tongues: A Film. A Challenge.
With all the talk of "Restoring Honor" and taking back our country, I've been thinking a lot about the changes in America that feel so threatening to some.  We are living through revolutions in just about every sphere of life.  Some revolutions can be terrific.  Like the American Revolution. Or the technological revolution that enabled us to throw out our bulky typewriters for increasingly thin, fast and powerful computers.  A revolution in learning and human relations needs to accompany the technology shift – and this is where it can get tricky.  At a time when national borders mean less and less, and cultures interact on a daily basis, Americans can do better than complete their education as monolinguals with a weak grasp of geography, math, or how to interact across cultural lines.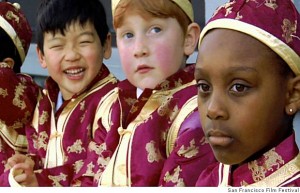 From 'Speaking in Tongues'
Among the key skills for success in the 21st Century workforce is fluency in at least a second language. Many disagree with me on this point.  Thirty-one U.S. states have passed "English-only" initiatives, in order to not be required to translate official documents and services.  School districts (including where I live) have dropped foreign language instruction in elementary school and/or middle school due to budget shortfalls or because the results aren't demonstrated on standardized tests.  Meanwhile, the US Department of Homeland Security is clamoring for Americans fluent in the languages of other countries to aid intelligence work, the Department of Defense is pouring money into language programs, businesses are more likely to hire a bi-lingual candidate when offered a choice, and research (as well as common sense) indicates the younger the learner, the easier it is to acquire an additional language.
Yet, for many Americans, the idea of foreign language immersion falls somewhere between threatening and mysterious.  Amidst this backdrop I was delighted to watch the new documentary film Speaking in Tongues, by veteran filmmakers Marcia Jarmel and Ken Schneider.  The film humanizes the difficulties and triumphs of language learning by following four diverse students and their families.  As we get to know the children we see the impact of speaking more than one language, from becoming closer to one's heritage and the older generation that holds the traditions, to taking opportunities to live and travel abroad, to offering a chance to break out of a cycle of poverty.
The medium of film tells a story that no academic study could convey.  I found myself rooting for Durrell, an African-American boy living in public housing who starts Kindergarten immersed in a Chinese classroom.  And also for Jason, a Mexican-American boy, whose parents are not literate in any language, but who develops proper Spanish literacy while mastering English. Their determination through substantive lessons in Chinese or Spanish actually serves as their ticket to potential success in mainstream America – and beyond.
The filmmakers are clearly committed to this ideal.  "We have seen the amazing transformation through language in our own home. Our sons are in their fourth and eighth year in a Chinese immersion program. They are equally comfortable in both English and Chinese" explains Ms. Jarmel.   "As parents and as filmmakers, we wanted to pose the question: 'In today's world, is knowing English enough?' and we invite the film's audience to consider the answers with us and one another."
Watching the film helped me better envision what an immersion classroom looks like, how a family can support the intellectual (and at times emotional) challenge their child is taking on, how a global mindset can be developed for a child from any economic condition, and more generally, how language can unite diverse peoples.
Speaking in Tongues is streaming on PBS Video through September 17, and is the first program to be carried in three languages (Spanish, Chinese, English) on the PBS video portal.  (Click here to watch it now.)  The film also will be available to watch on PBS and other cable TV stations throughout the United States, now and beyond September 17.  Check the film's website here for schedules.  If you don't find your city on the schedule, call your PBS affiliate and ask for it.  The website also offers information if you'd like to host a screening and community discussion, and more resources for language learning and global thinking.
I'd love to hear your thoughts on the film, and your community's experience on this issue, whether it's with children learning a second language through immersion or simply dabbling, or the response to immigrant English language learners.  Are you from one of the English-only states?  How has this played out in practice?  How have school budget pressures impacted programs?  If school leaders don't speak a second language is this affecting the way they decide on programs?
Whatever your experiences with language learning – keep talking!  It will translate into a better community, and might even stir a revolution.
----
Homa Sabet Tavangar is the author of Growing Up Global: Raising Children to Be At Home in the World, hailed a "Best New Parenting Book" by Scholastic Parent + Child, and a Best Education Book of the Decade.  Between conversations with grandparents, Saturday school, high school courses, and their year-long AFS exchange student "sister," her three daughters are learning how to order cupcakes in Persian, Spanish, French and Chinese.