Six Months After Sandy Hook: Renewing Our Passion in the Struggle to Protect American Families from Gun Violence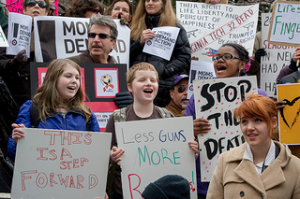 Photo of an anti-gun violence rally by MDGovpics on Flickr.
June 14 marks six months since the Sandy Hook Elementary School shooting.  As the immediate outrage fades into the not-so-distant past, we must remember this national tragedy and redouble our efforts to advance dramatic improvements in gun safety to protect our families. We must also remember that each day countless women and children continued to be gunned down in our streets throughout the land.
Firearms are among the leading causes of death for young people in the United States; every day, eight children or teens die from injuries inflicted by the use of guns. Children are not the only innocent victims; fifty percent of women who die during disputes with a partner are killed by firearms. The immeasurable trauma caused to the families of victims reverberates far beyond their immediate communities.
What is almost as shocking as the senseless tragedy in Newtown and the staggering statistics on firearm dangers – particularly for women and young people – is the lackluster response from the American government as a whole. While many policymakers have halfheartedly proposed and debated solutions to appease special-interest groups, women leaders like Gabby Giffords, Congresswomen Jackie Speier, Diana DeGette, Carolyn Maloney, Elizabeth Esty and Senator Diane Feinstein – among others – have filled the void and risen to the challenge of championing the movement for true reform. They are among many courageous women who have united across the political spectrum to promote simple, common-sense solutions to improve gun safety laws at the state and national level. Preventing guns from needlessly falling into the hands of the wrong people will literally save the lives of thousands of women and children every year.
Through its Women United For initiative, the Women Donors Network has solidified our commitment to preventing more American families from being devastated by the indiscriminate sale and use of firearms. Our efforts helped to catalyze an historic collaboration of a diverse network of women who are unwilling to let gun violence prevention continue to fall into the trap of a gridlocked politics.
Despite the progress made by decades of women leaders, women's health and safety have failed to become and remain national priorities. That's why we're galvanizing women around the country to collaborate on creative strategies to inspire policymakers to protect our nation's mothers and children. Let us always remember Newtown and other historic events, but rather than succumb to despair, use it to mobilize our fellow Americans to finally end violence against women.
This post is part of the project, "Sorrow, Anger, ACTION! - A Gathering of Voices Against Gun Violence," organized by MomsRising, PICO Network, UltraViolet, Children's Defense Fund and the National Network to End Domestic Violence.