Single women's votes can determine the election outcome
The votes of unmarried women can determine the outcome of this election.
The gender gap is real.  Since 1980 a higher percentage of women than men have been voting for a given candidate, and they have tended to vote in higher percentages for Democrats.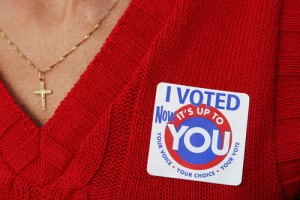 But that's not the whole story.  There is even a larger gap between married women and those who are single, divorced, separated or widowed.  The gap between those women and married women is a whopping 34 percent (except those over 65) according to Page Gardner of Women's Voices, Women's Vote. These are precisely the women who are the most deeply affected by the lack of sensible family work policies, which would make moms' lives better.
Both political parties have caught on to the fact that the women's vote will determine the outcome of this election, but they have two sharply different strategies to win women's votes.
One party has a more traditional view of women's lives, and appears to want to hark back to the 1950's ideal family, when Dad went off to work, and Mom wore an apron, waving Dad off as he stepped out the door, briefcase in hand. Two perfect children, the boy always somewhat taller than the girl, stood on either side.  While that family portrait applies to approximately 20 percent of American families today, 80 percent of families present a different portrait.  Mom and Dad walk out together in the morning to go to work, or a single Mom rushes to get the kids ready for school and goes off to work.
Some women experience both stages of life, staying home to care for the children in the early years, if they can afford to, and as the kids get older and go school, many moms go back to work.
All moms are finding that it's getting harder and harder to do everything—to have time to be both a loving Mom and to have enough income to be a good provider.
Neither political party is paying sufficient attention to the needs of moms.  While the Democrats are not moving forward at a fast enough rate, Republicans appear to want to take us back to an earlier time before hungry children had access to food stamps, and before Medicaid and Medicare provided health care for low income families, the elderly and the disabled, as evidenced by deep domestic spending cuts in the Paul Ryan budget.
Why such a different vision of the American family? We continue to have a nostalgic attachment to the single, male wage earner family, which could once live comfortably with the salary of one wage earner.  Few families can get by on one income today.  What do most families need to be good parents and providers?
It's not hard to figure it out. First on the list would be workplace flexibility to enable Moms to be there for an emergency, or even a non-emergency, like a soccer match, a meeting with the teacher, or a doctor's appointment.  Some good employers provide workplace flexibility, but it is not yet the norm for attracting and keeping well-trained, valuable employees.
Second would be paid family and medical leave, which is the norm in most of world. You may not believe this,  only three countries do NOT provide any form of paid maternity leave: Swaziland, Papua New Guinea, and yes, the United States.
High on my list is affordable quality childcare.  I have to repeat; most countries do a better job than we do.  The proof is in the statistics.  The United States has the highest child poverty rate of any industrialized country at 22 percent.  For comparison: Sweden has a child poverty rate of 3 percent.
Good childcare and poverty are connected.  Most parents would like to work if they could find good affordable childcare. But the cost of childcare—if they can find it—cuts a huge chunk out of their incomes. We also now know that high quality childcare can help break the cycle of poverty. Long term studies of adults who had excellent childcare are less likely to be unemployed and less likely to land in jail. The best antipoverty strategy is still a paycheck.
Ideally, if both parties fully understood the needs of moms for paid maternity leave, good childcare, workplace flexibility and equal pay for equal work, these issues would be at the top of the political agenda, instead of an occasional footnote.
We have to look at these policies not as handouts, but hands up for families who want the very best for their children.
How can we achieve family/work policies that create healthy strong families and a healthy strong workforce?  We have to make our voices heard at the ballot box. Now is the time to examine the candidates and figure where they stand on supporting moms.
Single women are the key. The message is simple—hard as it may be, take time out of your super busy and overly stressed life—and get to your polling place.  You can make the difference for all moms and lots of kids.
=================================
Former Vermont Governor Madeleine M. Kunin is the author of "The New Feminist Agenda, defining the next revolution for women, work and family," acclaimed by the New York Times as an Editor's Choice.
She will speak in the San Francisco area:
October 2, 2012, 5:30-7:00 pm at Berkeley's Goldman School of Public Policy, Banatao Auditorium, Sutardja Hall on Hearst Avenue.
Oct. 3, 2012, Emerge America's Second Annual Trailblazer Luncheon, The Fairmont Hotel, 11:30.
Image courtesy of Shutterstock.