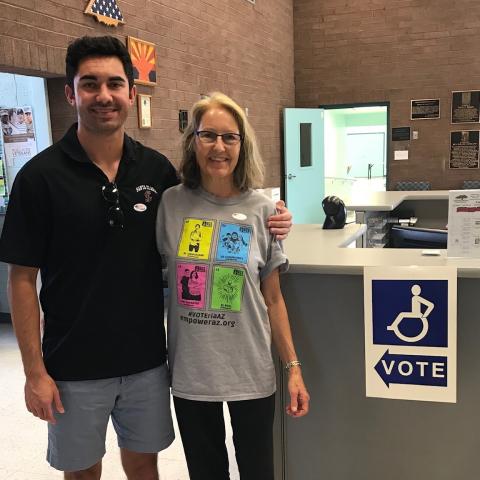 Single Mom Speaks Out On Affordable Health Care: "I Will Not Remain Silent"
I am a single mom with a son whom I have financially supported on my own for 22 years. I am an artist/small business owner. I proudly watched my son graduate from college last June. 
Trust me, it has not been an easy road. The most difficult challenge over the years was paying for the escalating costs of health insurance before the Affordable Care Act (ACA) went into effect. Health insurance is essential because without insurance there is no health care. My 51-year-old brother went to the emergency room in 2010 with a health crisis due to an undiagnosed condition that ultimately took his life a year later. He worked full time but could not afford insurance therefore he had no access to preventative care, testing, diagnostics, or any medical interventions. Every time I think about this, it breaks my heart and makes me furious because if my brother had access to affordable care through the ACA he would have had preventative care and the whole scenario may have played out very differently.
In 2013 after 30 years of paying for continuous health insurance, I was in debt and on the verge of giving it up due to very high premiums for high deductible insurance. Health insurance premiums were the single highest monthly item in my budget, even more than housing. When the ACA became law, I received a subsidy and cost sharing and I literally cried my eyes out because I felt my government cared about me, thus allowing me to care for my myself and my son responsibly. 
During the past four years advocating for affordable health care, I realized many people, including good friends, have misinformation about what is involved in procuring your own health insurance and what life is like without insurance.  
My friend Carmen said, "wow I never thought about it before we talked, I thought well, it does not affect my family so it is not my issue". Now she fully believes that health care is a right for all because she witnessed my journey, my struggles, my losses and realized it is an issue for all of us.
My son got his first post college job recently and with it access to health insurance. I will receive Medicare in the New Year but I am still just as passionate about spreading the word about the importance of affordable care. Until each and every American has access to the full spectrum of essential benefits the ACA guarantees I will not remain silent.  To every lawmaker that supports eliminating the ACA I say walk in my brother's shoes, walk in my shoes, open your eyes to the millions of uninsured Americans including millions of children, and dig deep to find your heart so you can do the right thing for all Americans.