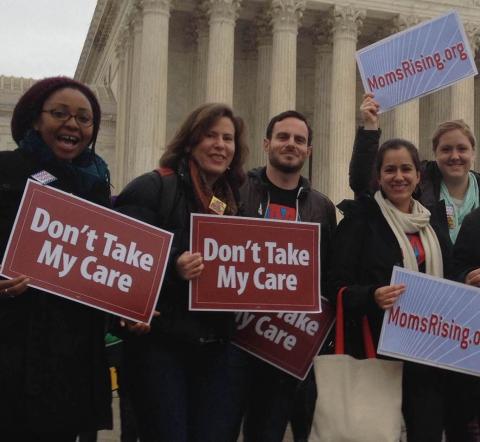 Sign your name to support the Affordable Care Act!
Every parent knows that feeling… an ominous silence from the other room where you know the kids are playing—and you're sure that they are up to no good.
Well, there is an eerie lack of yammering in Congress about repealing the Affordable Care Act (ACA) and that's because the Trump Administration and fellow Republicans have taken a new, quieter approach to attacking the law by trying to undermine it in the courts. But moms can't be fooled!
*Quick signature: Tell President Trump, Attorney General William Barr, and State Attorneys General who are plaintiffs in the Texas v. United States case to stop their attack on the Affordable Care Act!
What's the deal? President Trump's administration has quietly been taking whacks at the Affordable Care Act at every turn. In March, his Department of Justice, led by U.S. Attorney General William Barr, filed a letter in support of a case brought by several Republican state attorneys general and other plaintiffs seeking to overturn the ENTIRE Affordable Care Act. This would include the provisions that ban discrimination against people with pre-existing conditions, allow parents to keep children on their insurance until age 26, and require insurance coverage includes essential health benefits like maternity coverage, prescription drugs, and mental health care.
The Trump Administration's callous legal strategy puts an estimated 21 million people at risk of losing coverage altogether, and sets millions more to lose critical protections like the ban on lifetime caps and prohibiting insurance companies from charging women more than men for insurance. As parents, we know that when someone we love is ill or injured we want the best care. There is so much at stake if the Affordable Care Act is invalidated and arguments start next month. We need everyone to speak out to protect the gains we've made to #ProtectOurCare!
Sign on now! Add your name to our petition to say that you won't stand for coverage to be ripped away from 21 million people!
This eerie quiet must be interrupted with the voices of parents to let President Trump and Attorney General Barr know we are watching their underhanded attempts to invalidate the ACA. They are attacking the ACA by supporting the lawsuit against it, and we need to pressure them to withdraw that support. They are certainly not alone in their attacks on our health care. The Texas v. United States case is being brought by a group of Republican state attorneys general (TX, AL, AR, AZ, FL, GA, IN, KS, LA, MS, MO, NE, ND, SC, SD, TN, UT, WV). Wisconsin has already withdrawn from the lawsuit, and we need more states to do the same. Each and every one of these state Attorneys General need to hear from us so that they know that parents are watching and can see that they are up to no good.
The sabotage efforts by the Trump Administration and Republican members of Congress led to 1.1 million more Americans losing health care coverage last year. We cannot allow this erosion of our coverage to continue and must fight to protect the gains we've made toward expanding access to health care and support the right of all families to access quality, affordable health care coverage.
Sign now! Tell President Trump, U.S. Department of Justice, and Plaintiffs in Texas v. United States, that the moms and dads of America will not stand for the Affordable Care Act to be struck down!