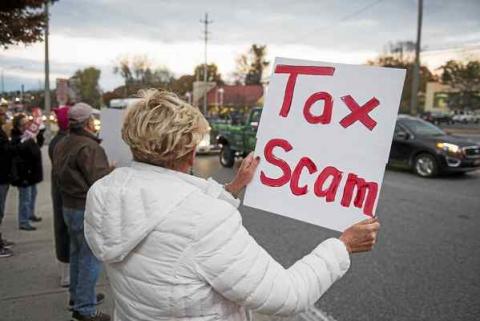 SIGN OUR LETTER: Repeal tax cuts for 1% and Wall Street!
Today we are marking the six month anniversary of the passage of the disastrous Trump-GOP Tax Plan.
Who have the winners been? Millionaires, billionaires, and mega-corporations.
Who have the losers been? Me, you, America's working families, and our economy.
But it doesn't have to be this way! The so-called Tax Cuts and Jobs Act is still wildly unpopular even as some workers have seen a meager, short-term increase in their paychecks. People realize that it's really a massive wealth shift to help the already wealthy get even more money! The rhetoric the president and GOP Congress used to peddle this piece of legislation has proven to be lies.
But, there is still time to fix this terrible policy. And we need YOU!
***SIGN our letter to the U.S. Congress calling on them to repeal the tax cuts for millionaires, billionaires, and wealthy corporations and instead pass tax policies that boost working families!
It's been six months since the Tax Cuts and Jobs Act passed and if we were teachers grading the success of this tax policy we would be giving it a giant F!
The Trump GOP tax plan is more like a tax scam. It has failed to:
-Increase worker pay—Nope!  Only 4% of workers so far are getting a bonus or wage hike due to the tax cuts. Corporations are giving huge windfalls to their CEOS and wealthy shareholders in the form of stock buybacks instead. Companies from Harley Davidson to Kimberly-Clark (the makers of Huggies and Kleenex) have been announcing major layoffs at the same time as they are spending millions of dollars in stock buybacks. And who do the stock buybacks benefit? The wealthy of course— who have already seen a windfall in tax breaks from the Trump-GOP tax plan. President Trump and his GOP cronies promised that the benefits of the tax plan would "trickle down" to working families, but as we have learned time and time again, trickle down economics does not work. In fact, it's almost as if the opposite of what they are promised is happening. These broken
promises matter because even prior to the Trump-GOP tax plan being passed, workers were experiencing a historically low share of corporate income.
-Create tax fairness—Nope again! Unless Congress takes action, the vast majority of the Trump-GOP tax cuts will go to the wealthy and mega-corporations, not working families. In fact, 83% of the tax cuts go to the richest 1% once the law is fully implemented. What does this mean in real dollars? The average tax cut for the top 1% is $51,000 this year alone. The rest of us are looking at about a dollar a day.
-Protect our healthcare—Nope, nope, nope!  Slipped into the final Trump-GOP tax policy was a provision that repealed the requirement for healthy individuals to buy health coverage if they can afford it, leading to 13 million people losing health coverage by 2025. They did this in order to help pay for their ridiculously expensive health plan and sneak in a blow to the Affordable Care Act to win Republican political points.
-Lower the debt—Nope again times $1.9 trillion. The Trump-GOP tax cuts cost $1.9 trillion, greatly increasing the national debt and leaving a legacy of debt for generations to come. This is giving conservatives and excuse to demand deep cuts to healthcare, nutrition, and education programs to pay for the tax cuts. The cost of this tax plan has ballooned even from six months ago and if the GOP gets its way, the cost will continue to go up as they move to a second phase of tax reform.
The damaging Trump-GOP tax plan is a complete failure any way you look at it. It fails our families, our workers, and our economy.
***Sign our letter to Congress now telling them to repeal the Trump-GOP tax cuts for billionaires and mega-corporations and instead pass policies
that boost working families and our economy.
You spoke out loudly while the faulty Trump-GOP tax plan was being considered. You called, you wrote, you tweeted, you told your stories and you showed up at your elected officials' offices. Now is the time to do it again. Why? Because believe it or not, the GOP Congress is considering a "Phase 2" of the tax plan. It's unpopular among voters and hasn't helped our economy, but still they think they can push through more harmful tax policies by the end of the year, especially a policy that would make permanent the trillions of dollars in tax cuts given to the 1%.
This is why we need YOU to speak out now and sign our letter to the U.S. Congress telling them to repeal the tax cuts for the 1% and Wall Street!
We want to send a strong message to Capitol Hill that these tax policies are harmful to our families and we want them repealed. After you take action, please forward this blog to your friends and family and post our action link to Facebook. The more of us that speak out, the louder our message will be. 
Thank you for continuing to speak out for our working families and the economy!