Take Action!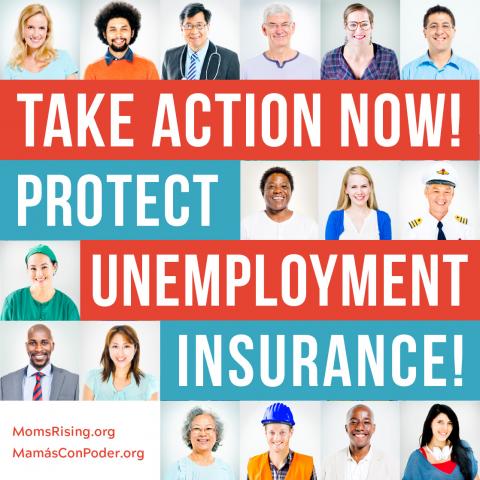 SIGN OUR LETTER calling on the Senate to do more for the unemployed!
It would be great if President Trump could snap his figures and end the COVID-19 health and economic crisis on July 31st, but so far, his magical thinking doesn't seem to be doing the trick. Arbitrary dates are exactly that: arbitrary. And some of the improvements Congress passed to Unemployment Insurance arbitrarily will end on July 31st unless immediate action is taken. 
America's families need a real plan!
***SIGN OUR LETTER calling on Congress to take immediate action to ensure that our unemployment insurance system continues to support families until this economic and health crisis ends!
We're hearing from moms every single day who are struggling with unemployment and questioning how they are going to pay their bills and continue to put food on the table for their families. Within the past three months, the U.S. Congress has passed a massive overhaul of our broken unemployment insurance (UI) system—but a vital component of this overhaul arbitrarily ends at the end of July—only two months away! The CARES Act provided an extra $600/week in federal unemployment benefits to make struggling workers whole during this pandemic. But that enhancement will arbitrarily end on July 31st. And as great the improvements to the UI system have been, much more still needs to be done in order to support struggling families and a deeply damaged economy.
Women especially have been hit hard by the economic fallout of this pandemic, with women-dominated industries being the first to be shutdown like food service, retail, child care, hospitality, and education. In fact, women accounted for more than half of the jobs lost in March and it's estimated that between 7.8-8.4 million women filed for unemployment insurance in the last three weeks of April. 
We are hurting and we need our elected leaders to double down on the efforts they have already made to expand Unemployment Insurance to those normally left out of the program (women, gig workers, self-employed etc.). Much more needs to be done so our families can support themselves and our economy can start to recover.
We know that unemployment insurance works and is an important lifeline for millions of people. We just need to make sure it is there for all of us for as long as we need it!
***ADD YOUR NAME to our letter calling on Congress to strengthen and expand UI to help struggling workers during the COVID-19 pandemic!
Despite what economists from both sides of the aisle are predicting in terms of our floundering economy and record unemployment numbers, President Trump and his GOP allies are pumping the brakes on any further action to assist those out of work. President Trump is opposing an extension of the $600 boost in unemployment insurance past July 31st, when it is set to expire. The $600 is critical to those out of work because it allows for full wage replacement versus the usual 30-50% wage replacement people would normally see with Unemployment Insurance. The $600 is also critical to rebuilding our economy, which is based on consumer-spending. This is another case of our President being out of touch at best and cruel at most if he thinks the average American family can survive on half of their usual monthly paycheck!
And Senate Majority Leader Mitch McConnell is no better. He doesn't even think we need additional COVID-19 relief legislation and is planning to block the House-passed HEROES Act, which among other things provides major improvements to unemployment insurance, paid family leave and paid sick days, nutrition assistance, and aid to struggling state and local governments—basically the type of things our families need right now to get through this pandemic. 
This is why we need YOU to join us in speaking out NOW! If we don't make a ton of noise and put pressure on the U.S. Senate to take action to help struggling families and our broken economy, things will only get worse!
**SIGN NOW to tell your U.S. Senators to take action immediately to boost and strengthen our unemployment insurance system!
We know you have so much on your plate, so we appreciate you continuing to speak out any way you can to help our families get the programs we need to survive this pandemic. After you sign our letter make sure to share this post with your friends and family and post our action link to Facebook.
Thank you!
P.S. Have you been able to access unemployment insurance? MomsRising would love to hear from you about how UI is helping your family during this pandemic! Share your story here!
P.P.S. Have questions about whether you are eligible for the new Unemployment Insurance programs passed by Congress since March? We've got you covered! Watch this video from a webinar we held with an expert from the National Employment Law Project (NELP) and check out additional resources that you might find helpful.