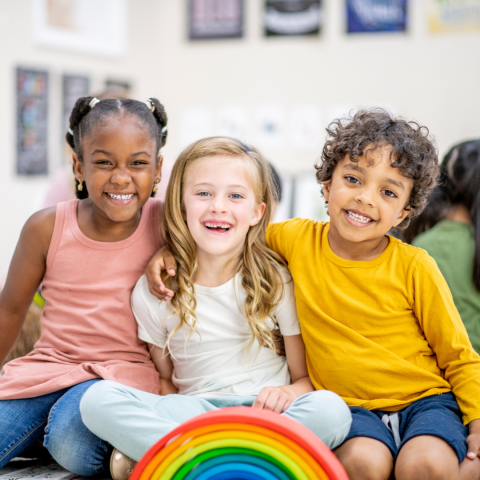 Sign On to Help Grow Dual Language Programs in your community!
Did you know that approximately 50% of the world's population speaks more than one language, while only about 20% of U.S. residents possess this skill? [1] These numbers are shocking. 
Growing up as a dual language learner, I can attest that being bilingual has opened up unique personal and professional opportunities. It has also helped me to maintain my cultural identity and heritage.  As a mother, I would like my children to have the same opportunities, and I know that dual language programs are the way!
**Please join me in signing our open letter to your members of Congress urging them to help bridge the opportunity gap by supporting dual language programs.
Why are dual language programs important? 
These educational programs provide instruction in two languages and are critical to closing the academic opportunity gap, fostering positive identity development for all kids, and building communities that embrace diversity in language and culture. They also help maintain home languages and are already popular in indigenous communities. 
Research shows that dual language programs are the best way to increase student achievement for English Language Learners (ELL) while also improving education outcomes for native English speaking students. Students who know more than one language have also exhibited increased emotional intelligence, stronger problem-solving skills, and improved academic outcomes. [2] 
While around 20% of K-12 grade students in the United States are taking foreign language classes, in Europe, the average percentage of students learning a language in school is significantly higher, with a median of 92%. [3] Can you believe that?! It's time to provide children in America access to dual language programs in their own communities.
Please add your name to show your support for the funding and integration of dual language programs and language support in early learning programs (like child care and pre-k)  and K-12.
Many parents and advocates know that building a bilingual workforce will help create opportunities for both monolingual and bilingual children, ensuring that our families and communities thrive in a global economy. [4]  Dual language programs can help students develop the language and cultural competencies that are in high demand in today's globalized economy. [5]
I know first hand how critical supporting bilingual language development can be in creating bridges for kids. 
Join us at MomsRising to make sure kids across the nation  have access to a bilingual education in their own communities. Let's make this happen together! Please sign our open letter to legislators ASAP urging them to support dual language programs.
Thank you for your time and for raising your voice for more opportunities for our children.
P.S. - Mother's Day is quickly approaching! If you're looking for something special for a mom you love (including yourself!) check out our limited edition merch. CLICK TO BROWSE NOW -> https://action.momsrising.org/go/74612?t=14&akid=18498%2E3143757%2EGKQb1E