Take Action!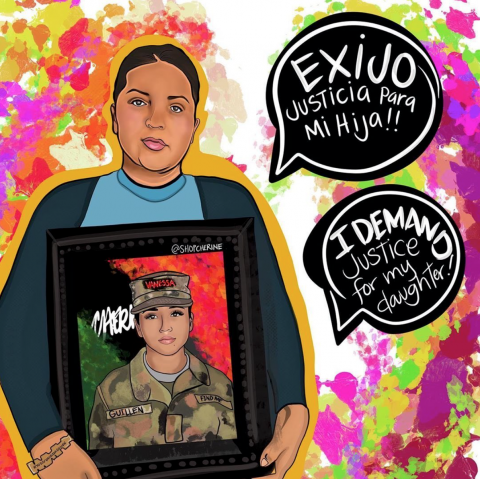 SIGN ON: Congress must take action against military sexual assault
When one's child joins the military, a parent may worry about their loved one risking their life in active combat situations as part of their service. What no parent should fear is that their child serving their country could be harassed and killed at the hands of a fellow soldier.
Sexual harassment in the US military must end!
Demand Justice for Vanessa Guillen NOW!
20-year-old Vanessa Guillen joined the US Army in 2018 to serve our country as a private first class in the 3rd Cavalry Regiment at Fort Hood in Texas. She was serving the country she loved and in return, she was sexually harassed and brutally killed. She was seen for the last time on April 22, at the parking lot of her barracks at Fort Hood, Texas. Human remains found on Tuesday, June 30, near Fort Hood are believed to be hers. A suspect in the case died by suicide when approached by police on Wednesday, July 1st. 
Several weeks before her disappearance, Vanessa told her mother that someone was sexually harassing her but she was afraid to report it because she feared retaliation. Vanessa's mother and family are demanding a congressional investigation into the U.S. Army's handling of Vanessa's disappearance and failing to protect her when she was being harassed. 
Take action and help Vanessa's mother and family demand investigations!
Sadly, Vanessa's experience is not an isolated incident. According to an anonymous survey of enlisted military service members, reports of military sexual assaults jumped by 13% last year. The survey found that young and junior enlisted women between the ages of 17 and 20 were most likely to experience sexual assault. In the vast majority of cases, the alleged perpetrator was a military man, often near the same rank as the victim and usually someone she knows. And troublingly, 21% of the women who said they reported a sexual assault believed that they suffered some type of retaliation aimed at stopping them from making a complaint. This was the exact fear Vanessa shared with her mom before she disappeared.
Take Action: Demand a Congressional and independent investigation!
No one should be afraid to report sexual harassment and no mother should be afraid that their children serving the country will be harassed and killed by another soldier in the U.S. Army.
We are joining The League Of United Latin American Citizens (LULAC) to demand justice for Vanessa Guillen. We are urging our Members of Congress to take the following actions:
Call for an independent investigation of Guillen's murder by trained investigators and reporting and adjudicating cases out of the chain of command of the Guillen case.
Demanda a Congressional investigation to find out what the Army knew, when and how and what their response was.
Support the Military Justice Improvement Act (S. 1789) which:

Gives military prosecutors the authority to decide which sexual assault cases go to trial. This protects victims by allowing a trained, legal professional to properly evaluate their case.
Moves the authority to convene courts-martial (trials) for sexual assault cases outside the chain of command. Convening is the process of assembling and authorizing the court-martial, including jury selection. By removing such authority from the accused's commander, victims will be better protected.

Ensure that the Army conducts an independent investigation of Guillen's murder by trained investigators and reporting and adjudicating cases out of the chain of command of the Guillen case.
Ensure better treatment of women soldiers including basic respect, and compassionate treatment; and accountability for perpetrators.
URGE your member of Congress to take action and demand justice for Vanessa Guillen NOW!
Impunity and injustice in these situations are unacceptable. Sexual assault in the military is a systemic problem that we must address and stop, and a Congressional hearing, independent investigation, and legislative response are steps in the right direction. Vanessa's family deserves answers and justice, and we must stop sexual assault in the military so that no other family has to experience this tragic and senseless loss of life.
P.S.– Find this action alert in SPANISH on our MamásConPoder page.