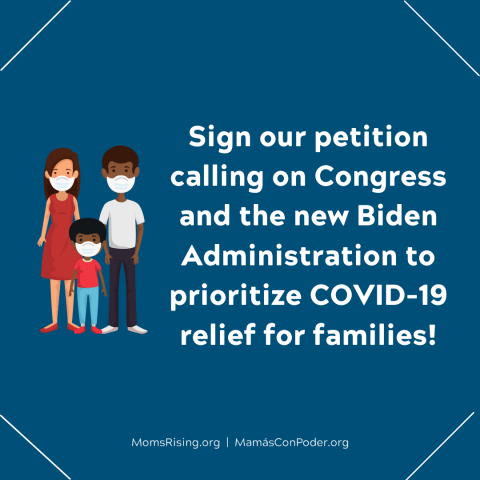 Sign now to support Biden's COVID plan!
"We not only have an economic imperative to act now, I believe we have a moral obligation. In this pandemic in America, we can not let people go hungry. We can not let people get evicted. We can not watch nurses, educators, and others lose their jobs, we so badly need them. We must act now and act decisively. My fellow Americans, the decisions we make in the next few weeks and months are going to determine whether we thrive in a way that benefits all Americans or that we stay stuck in a place where those at the top do great, while economic growth for most everyone else is just a spectator sport and where American prospects, dim, not brighten."
- President-elect Joe Biden, January 14, 2021
Last night, President-elect Joe Biden laid out a bold, comprehensive plan to bring our country back from the personal, health, and economic despair brought on by the COVID-19 pandemic. [1] From vaccines to childcare to paid family leave to addressing the staggering levels of hunger in this country to raising the minimum wage, the Biden Rescue Plan is the type of approach our country so desperately needs.
The direction of the country is changing, but President-elect Biden can't do it alone! We need YOU to speak up right now! 
→ Tell Congress to get moving and let the Biden Administration know that we are here advocating for change too! (When you click, you'll automatically sign on if we already have your information)
Words hold power. So we stood up and applauded when President-elect Biden said these words last night (and now we need to raise our voices to make this vision a  shared reality!):  "Imagine millions of jobs in our caregiving economy to ease the financial burden of caring for young children and aging loved ones. Let's make sure our caregivers, mostly women, women of color, and immigrants, have the pay and dignity they deserve." - President-elect Joe Biden
***SIGN OUR LETTER NOW calling on the new Biden Administration and Congress to take immediate action to turn those words into policy that helps our families, communities, and economy deal with COVID! (When you click, you'll automatically sign on if we already have your information)
We have no time to waste. COVID relief must be the first priority of the new Biden Administration and Congress next week -- and relief must move forward as soon as possible. Why? Because women and especially moms and moms of color are hurting. As the latest jobs report shows, women of color are bearing the brunt of the economic devastation the pandemic has brought: Some 82,000 Black women and 31,000 Latinas lost their jobs in December and there are indications that white women made gains. [2] Many more women and moms were forced to leave the labor force in the face of virtual schooling, dwindling child care options, and our nation's lack of paid sick days and paid family leave. Overall, there are nearly 2.1 million fewer women in our country's workforce today than were in it before the pandemic began, and even more women and women of color working part-time because they cannot find full-time jobs. Our economy will never thrive if women are not fully represented in the workforce.
The pandemic has shown the gaping holes in our system that leave women, and especially moms of color, behind. Our failure to make real investments in childcare, universal paid leave and sick days, and fair wages, along with anti-discrimination policies, has meant this pandemic has buried women financially and set them back decades, as more and more women lose their jobs or are forced to drop out of the workforce to attend to caretaking demands.  It doesn't have to be this way.
This discrimination and failure to advance change has to stop now! Our elected leaders must do better! We need comprehensive COVID relief, including real policy change now!  And together we can make that happen.
**Add your name to our letter, which we will deliver to the new Congress and Biden Administration in the coming days. (When you click, you'll automatically sign on if we already have your information)
At the end of 2020, after political infighting and endless negotiations, we were able to get some COVID relief. But many of our families are still struggling, had to wait too long, faced gaps in their unemployment payments, and too many families still face evictions, utilities shutoffs, or inability to pay their bills. And not enough has been done to make sure families can still access emergency paid leave, our childcare infrastructure is saved and supported, or states have the funding they need to robustly roll out the COVID vaccine.
Action is needed and it is needed now! Our letter to the new Congress and Biden Administration states the following:
"Members of Congress and Biden Administration -  As we enter 2021, COVID still rages on with hospitals throughout the country reaching capacity, vaccinations falling far behind the amount needed to protect vulnerable populations, children still out of school and businesses closed, and jobless numbers still at a record high, predominantly impacting women, especially women of color. This is all at the same time that 1 in 4 children are living in hunger because of the impacts of COVID and over 389,000 lives have been lost to this virus.
We call on our elected officials to take immediate action to help protect all of our families regardless of immigration status, children, communities, and economy and put an end to this deadly virus. Any COVID-relief legislation should include:
Help for parents to support their families, including extended and strengthened unemployment benefits, an extension of emergency paid leave and paid sick days, and protections from evictions and utility shut-offs;
A minimum of $50 billion dedicated to a childcare stabilization fund through the passage of the Child Care is Essential Act to stabilize the childcare industry, support and ensure programs don't close their doors permanently and can reopen, safely meeting all new regulations, and ensure parents, particularly moms, aren't pushed out of the workforce because of childcare breakdowns;
Financial relief in the form of direct payments of at least $2,000/person, including for immigrant families and an expansion of the Child Tax Credit and Earned Income Tax Credit (EITC);
Funding to support a scaled-up distribution of the COVID-19 vaccine, with the federal government taking on a key leadership role and achieving a goal of 1 million doses a day in the first 100 days. This includes vital aid to state, local, territory, and tribal governments;
Ensure struggling families can access nutritious food during this economic crisis by boosting SNAP and increasing funds for school meals and other nutrition programs that are in unprecedented demand.
What our families and economy are facing continues to be a crisis and our elected leaders must treat it as such. We expect your support and immediate action!"
***Can you sign on to our letter calling on Congress and the new Biden Administration to take immediate action on COVID relief? (When you click here, you'll automatically sign on if we already have your information)
There is no time to waste! Once you sign on to our letter please forward this email to your friends and family so they can sign on as well. You can also post our action link: https://action.momsrising.org/sign/COVIDRelief_2021/ on social media. We plan to deliver our petition to the new Congress in the coming days, so the more people who sign our letter the better!
I know these are tough times. But we so appreciate you continuing to raise your voices and speak out for the things that really matter to our nation, families, and economy! 
P.S. We have a much more comprehensive document with our full COVID priorities for the new Congress and Administration, which you can find here.
P.P.S Are you still out of working and relying on unemployment benefits? Did you lose your emergency paid leave at the end of the year? Are you struggling with childcare/virtual schooling? MomsRising wants to hear from you! Share your COVID story with us here.
[1] "Joe Biden Speech Transcript on COVID-19 Economic Recovery Plan." January 14, 2021.
[2] "The US economy lost 140,000 jobs in December. All of them were held by women." CNN, January 8, 2021.