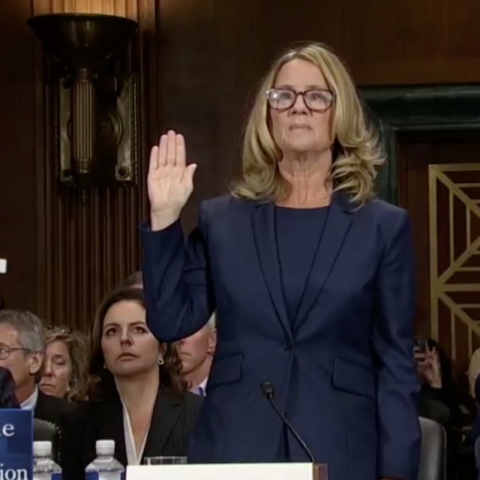 Sign now to send a thank you to Dr. Christine Blasey Ford!
Many of us are still reeling from the confirmation of Brett Kavanaugh as a Justice on the U.S. Supreme Court. But women and people who are concerned about the rights of survivors of sexual assault are ever more united in our conviction that the confirmation fight cannot be in vain and we will continue to raise our voices until all women are safe and our rights are secure.
Dr. Christine Blasey Ford gave the country an important teaching moment on the devastating impact of sexual violence with her dignified, forthright, and persuasive testimony about Supreme Court of the United States Nominee, Judge Brett Kavanaugh, and we owe her a debt of gratitude.
Click here to say "Thank you" to Dr. Christine Blasey Ford for bravely sharing her story and for her powerful testimony in front of the U.S. Senate Judiciary Committee.
This has also been a powerful moment for our movement—our movement of moms, dads and advocates around the country who banded together, spoke out, protested, and stood up for survivors and spoke out against Kavanaugh's confirmation. We came together to rally, to make tens of thousands of calls and send just as many letters. To stand at vigils and to support the women who sacrificed so much to stand at the frontlines of this battle, Dr. Christine Blasey Ford, Deborah Ramirez, and Julie Swetnick. Dr. Ford took the brave and difficult step in speaking out publicly, under oath in front of the nation and the world, about her sexual assault experience—inspiring and emboldening thousands of survivors to come forth with their stories, too.
Our voices, stories, calls, and marches have changed the national conversation and increased awareness about the impact of sexual assault in critically important ways. We still have a lot of work to do, but women are marching our nation forward. Dr. Ford led the way, and for that, we are deeply grateful.
Sign our thank you note to Dr. Ford for her strength and courage in sharing her story!
Though the FBI launched an impartial investigation after Dr. Ford's testimony, less than 10 people were interviewed, with neither Dr. Ford nor other accusers, among them. [1] "We had many fears that this was a very limited process that would constrain the FBI from getting all of the facts," Minority Leader Chuck Schumer said at a press conference Thursday. "Those fears have been realized." [2]
In the end, despite Dr. Ford's courageous and credible testimony and Kavanaugh's multiple lies while under oath, Committee Chairman, U.S. Senator Chuck Grassley moved forward with a vote paving the way for a full vote in the U.S. Senate, where the Senate confirmed Brett Kavanaugh to the Supreme Court last Saturday 50-48. [3] This indeed was a blow but has only empowered our movement for justice to keep pushing forward.
Help us send a heartfelt "Thank you for inspiring our movement" to Dr. Christine Blasey Ford by signing our letter!
With all that has happened, we may feel down but we are not out. We are part of a movement, that goes beyond moments of success or loss. And though this fight has been heartbreaking, we know that together, we will persevere to challenge a culture that silences survivors. We will challenge a culture that uplifts abusers and those that support them. We won't give up and we know you won't either. We thank Dr. Ford, and we thank you for being a powerful voice for justice.
Please take a moment to forward our action link to your friends and family and share our action link on social media so that others can say thanks, too: https://action.momsrising.org/letter/send-thanks-dr-christine-blasey-ford/?t=8&akid=11349%2E2464854%2EOtEQ54
[1] "Senate Dems 'very concerned' by limited FBI investigation into Kavanaugh allegations." Politico.
[2] "Republicans feel good about the FBI's Kavanaugh investigation. Democrats don't." Vox.
[3] "#MeToo Leaders Thank Christine Blasey Ford: 'Your Sacrifice Was Not Made in Vain'." New York Times.