Take Action!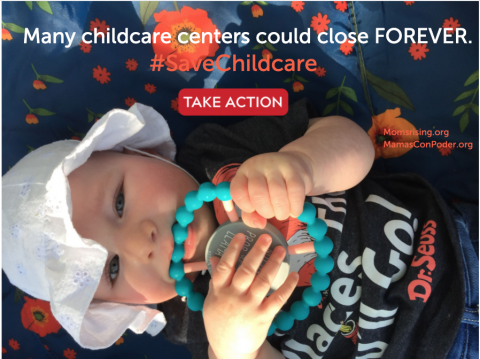 SIGN NOW to save Childcare!
"Trying to find childcare during the pandemic is almost impossible. I am a caregiver for a 20-month-old and right now he has to bounce from one house to another for childcare. This isn't safe for him or me. I am one of the people that is high risk, but I have to do this due to my child care being closed. I fear that it may not open up any time soon."
All around the country, moms like Yvonne are sharing their struggles with childcare as they try to deal with the far-reaching impacts of COVID 19. During this time of crisis, we must prioritize supporting families' access to safe, high-quality, and affordable childcare. This is crucial for our economy as too many parents are being forced to choose between child care and their jobs, and is important for the health and safety of our communities.
This is why Congress must act NOW to save childcare!
*CLICK HERE to sign on to urge members of Congress to prioritize a minimum of $50 billion childcare stabilization funding in the upcoming coronavirus package!
This robust investment is urgent and overdue for parents like Yvonne.
Research shows that at least $50 billion is necessary to stabilize the precarious childcare sector. Recent analysis shows that at least $9.6 billion a month is needed to fully fund existing providers in the sector to pay all their staff, be prepared to reopen at the appropriate time and eliminate cost burdens for families whose providers are closed.
The bad news is that what Congress has passed so far for childcare is not nearly enough to address this crisis. Congress recently provided $3.5 billion to Child Care and Development Block Grants (CCDBG) as part of the CARES Act. Yet these resources wouldn't even cover a month's worth of costs, and the $7 billion in relief proposed in the House-passed HEROES Act is also insufficient, it, unfortunately, wouldn't even cover a month's worth of costs.
The goods news is that there is still time for elected leaders to save childcare and give families access to safe, quality childcare so that they can work and give providers the ability to keep their businesses open and keep their employees.
Can you sign on to send a quick message to your lawmakers right now and urge them to save childcare?
Right now, childcare providers are facing an extremely uncertain future. According to a survey by the National Association for the Education of Young Children, 40% of the childcare centers in the U.S. say they will be forced to shut down if they don't receive additional public assistance.[2] In fact, we are hearing from parents about centers already closing, like Diana in New York: "My childcare center closed its doors and I'm heartbroken. Our childcare provider has been part of our life for 7 years. We don't know what we are going to do. Finding a new childcare provider is no easy feat. The price has to work, the location, the hours...there are too many unknowns now, and I think, unfortunately, that the best thing to do for our family is to scale work back until we can figure out if it is safe to send our children to child care during the pandemic."
This crisis is also further exacerbating long present racial disparities in childcare access. According to a Center for American Progress analysis, a lack of childcare negatively affected communities of color before the pandemic, as parents of color were more likely than their non-Hispanic white counterparts to experience childcare-related job disruptions that could affect their families' finances. If policymakers fail to act to address these disparities, this crisis will only intensify. 
An uncertain future for childcare means an uncertain future for families.
With more than 23 million children under the age of 5 in the US and the families of more than half them relying on some form of childcare, this potential shutdown would have devastating impacts on families and our economy. 
The $50 billion stabilization fund can help prevent this crisis from becoming even worse for families by providing the Federal funding we need to keep the childcare system afloat.
*CLICK NOW to tell your member of Congress to ensure a $50 billion stabilization fund is a top priority in the next legislative package.
The infusion of the grants provided by this important piece of legislation would cover the cost of just over five months of emergency care and relief for the overall childcare system. It would ensure that the childcare system is maintained to support families of essential workers who need care now and all families who will need care when they return to work.
Our families are already being challenged by economic and health uncertainties, taking away childcare for millions of Americans would only further harm any recovery efforts from this pandemic.
Congress must listen to and support our families.
Together, we can raise our voices to make sure they do!