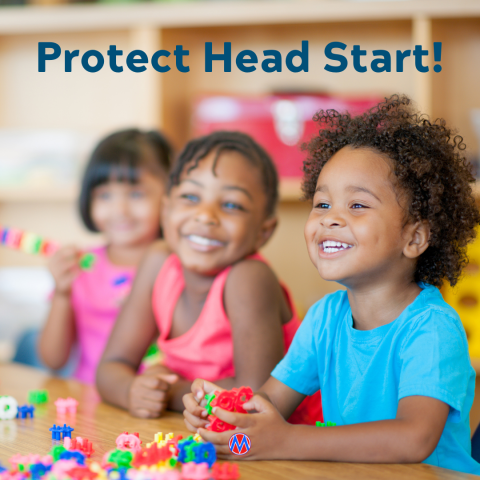 SIGN NOW to Protect Head Start!
Children and families have gone through so many struggles in the past few years. Our nation's littlest ones were born during a global pandemic and since then, families have had to navigate the care they and their children need in the face of unprecedented challenges.
Yet now, Republican leadership in Congress is considering hurting families by cutting funding for our country's most successful early learning program, Head Start. They want to cut Head Start by $750 million for the next fiscal year, depriving roughly 80,000 children access to this critical program!
Tell Republican Congressional leaders - and remind every member of Congress —that we need to protect and expand the programs that help us thrive, not cut them! Our representatives must oppose cuts to Head Start funding!
The importance of the Head Start program cannot be understated, it has been the most important social and educational investment in children, families, and communities the United States has ever undertaken. Head Start was launched in 1965 as a comprehensive child development program. Over the last 60 years it has provided opportunity and care to more than 38 million vulnerable children and their families.[1]
Research tells us that Early Head Start and Head Start work! These programs significantly support the development of early childhood mental health (like social-emotional development), language, and cognitive development. The value of infant and early mental health cannot be understated. Children who have positive and engaging interactions in their earliest years are more likely to enjoy good physical and mental health over their lifetimes. They are also better able to experience, regulate, and manage their emotions—key skills for later school readiness.[2] Children who attend Early Head Start and transition to Head Start are more ready for kindergarten than children who do not attend Head Start.[3] Head Start serves a diverse group of children, families, and pregnant people. Of families served, 37% identified as Hispanic or Latino, and 27% identified as Black or African-American, non-Hispanic or Latino. Additionally, about 32% of children enrolled were dual language learners, of which two-thirds were in families that primarily spoke Spanish at home.[4] In short, Head Start is AMAZING! 
Sign NOW to tell every member of Congress to oppose devastating cuts to Head Start funding!
A reduction in Head Start funding will have heartbreaking consequences by depriving an entire generation of vulnerable American children the opportunity to succeed in school and in life — and it will hurt our economy. Reduced funding will lead to staff cuts, empty classrooms, and fewer children and families being served. We already know the challenges a lack of child care has had on the ability of parents, especially moms, to work. With cuts like this, parents will further be forced to leave jobs or their own schooling due to a lack of affordable, quality early learning care for their children. This is beyond unacceptable.
Our families and children need MORE early learning support, NOT cuts! Tell Congress to fund Head Start!
Children that participate in Head Start programs receive innumerable benefits. These advantages appear immediately, last a lifetime, and even have an effect on other generations. We need to uplift our nation's children so that they can thrive and have a brighter future. We know how hard we fight for our kids, and Congress needs to fight for them too.