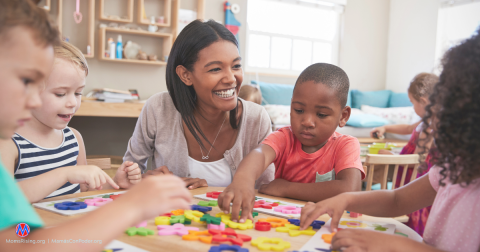 SIGN NOW: Encourage investment in early childhood for WA families!
As families are elbows-deep in navigating the childcare crisis, wiping endlessly runny noses, and trying to keep their families afloat, legislators are in Olympia putting together the state's budget for the next 2 years. And we families have something to say about it! Budget writers are deciding the priorities for the next state budget right now and they need to hear from us!
Click here to sign our petition to Washington's budget leaders urging them to prioritize investments in early learning and child care!
What's going on?
We are in a MAJOR childcare crisis. Families are scrambling to find and afford childcare, childcare centers and homes are closing, and there is a major staff shortage across the state. That's why we need investments now to ensure child care providers can keep their doors open for families, and that families can afford the care they need.
Take action now! Sign our petition to state budget leaders urging them to support critical investments in early learning and child care in the 2023-25 budget!
Right now budget writers - elected Senators and Representatives in the state legislature - are sitting down in Olympia to decide the priorities for our state budget for the next 2 years – and we want early learning, including child care, to be a top priority! Families like yours and mine know that we need long term investments to solve the childcare crisis. There are investments state lawmakers can make right now to ensure children, families, and providers can weather through this crisis.
Take action now and let our elected leaders know that we want them to prioritize investments in early learning in the budget!
What's at stake?
Budgets are an embodiment of our values, and what we put in a budget says what we value. Families know the value of childcare and other early learning opportunities, and now is the time to make sure our elected leaders know it, too. Washington State has some key opportunities to support children, families, and providers in this next budget including:
Invest in the child care workforce with investments that achieve:

Working Connections Child Care subsidy rate to 85th percentile and provide for the Complex Needs Fund to support children with differing needs in childcare settings
Move to enrollment based pay for providers to make payments predictable and stable
Eliminate background check fees and streamline process
Infant and early childhood mental health consultation to support providers and families
Direct the state to create a plan for universal access to child care and living wages and benefits for providers
Include job searches count as work activity in Working Connections Child Care Subsidy Program
Support for Family Friend and Neighbor Care
Fund the Imagine Institute to graduate 150 new child care providers a year through peer-to-peer mentorship, opening as many as 5,000 new licensed child care slots.
Expanded access to non-standard hours of care by increasing the Working Connections Child Care bonus for offering child care between 6pm-6am from $90 a month to $500, to truly incentivize providers to offer non-standard hours of care for more families.

Expand Early Childhood Education Assistance Program (ECEAP), our state's public preschool program, funding as well as a cost per child rate increase, and complex needs fund increase.
These critical investments over the next two years will support providers, families, and children across Washington. They will keep child care programs in business while also making care more accessible for families.
Click here to take action and urge lawmakers to prioritize these investments in the 2023-25 budget!
Let's stand BIG and BOLD together and make sure the future of child care has longevity for all future generations. Legislators have the power NOW, to make this BOLD change and we need to keep encouraging them to make these investments a top priority. When many people stand together to make change happen, great things come!