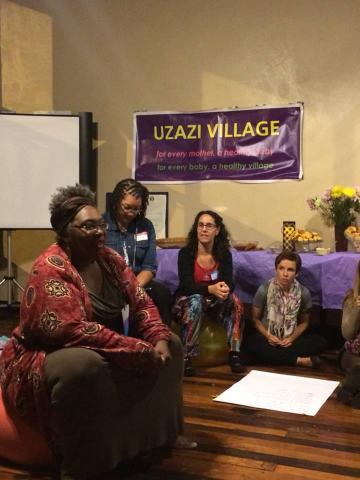 Sherry Payne leads with a village of perinatal health support in Kansas City
Tell us about your work and how it began.
I founded Uzazi Village in 2012 after a career as a labor and delivery nurse, and later as faculty teaching maternal infant health.  I wanted to have a more direct impact on perinatal (pregnancy-related) health outcomes in my community. I wrote a curriculum to train doulas, started training women from the community, and things took off from there.  In two years, we've trained almost 40 community women to be doulas, educated countless health care providers (nurses, midwives, and physicians) on the impact of healthcare inequities on the Black community. We started scholarships and created programs to nurture candidates of color who want to enter maternity care fields of work. We are now embarking on a new project and that is to open a school to train midwives and lactation consultants. It is about a 3 year process but we will begin this Fall. I'm so proud of all the work of Uzazi Village to become a force for good in our community.
Tell us about an experience you've had that conveys the importance of your work.
One of our early clients was Tamara (not her real name).  She was pregnant with her first child and was very excited about breastfeeding. I was her doula, and I attended her birth, which was lovely, helped her get her baby boy on the breast, and left the hospital after a successful nursing by the two of them. When I did a home visit two days later, I found her bottle-feeding formula!  When I asked her what happened, she said when she asked for help with breastfeeding the second day, the nurse brought her a bottle. It took two weeks and two more home visits with a lactation consultant to get her back to fully breastfeeding.  She went on to nurse her baby for nine months.  That nurse nearly sabotaged all the work that mother had done in preparation to breastfeed. It is not always Black women's fault when they are not successful with breastfeeding. The system can set them up for failure with its low expectations. Care providers won't put in the effort to educate or inform if they believe the woman is not committed, just because she is African-American. Tamara was unlikely to be successful for all the usual reasons; she didn't know anyone who had breastfed, she had never seen a woman breastfeed, she had some family support, but they didn't know enough to help her. Had Uzazi Village not been there, she would have been yet another sad story of someone who "tried and failed" at breastfeeding. Instead her story is a testimony to what can be accomplished when our women are invested in.
What data do you use to show the importance of breastfeeding and the impact of your work?
I use the CDC data, the mPINC data and CDC's annual breastfeeding report cards for each state.
What is one thing the person reading this can do to support this project?
We always appreciate prayers and well wishes.  If folks want to donate to our work (or some aspect of it) they can do so on our website. Also follow us on Facebook and Twitter, we try to keep our fingers on the pulse of the breastfeeding world. Most importantly, find your fit in your own community when it comes to promoting and advancing breastfeeding.  Encourage the breastfeeding mothers you see around you.
What is an area of breastfeeding support that is being overlooked and what should be done about it?
As a new Chair of the IBCLC Committee of the National Association of Professional and Peer Supporters of Lactation of Color (NAPPLSC), I am committed to increasing the numbers of IBCLCs of Color here in the U.S. (though I would love to see that number grow around the globe as well). We need to grow our own and create pathways for women of color to succeed in their efforts to become lactation consultants.
What's your favorite breastfeeding resource (ie, article, blog post, video, website)?
I love Denene Miller's My Brown Baby, Kimberly Seals Allers's blog, and for the best breastfeeding photos, Ms Wright's Way.  I write about breastfeeding a lot on my own blog, Urban Village Midwife.  I so appreciate the work of the other change makers included in the #BlkBfing Next Door blog carnival as well as Monique Sims in California with A More Excellent Way. As for other resources, I really enjoy the Wednesday Weekly Wire from the United States Breastfeeding Committee,  (USBC) and read it top to bottom every week. I really value the work of lactation science researchers such as Cynthia Good Mojab, Kathleen Kendall Tackett and Deborah McCarter-Spaulding. All these folks are doing fabulous work in the field of lactation and have a role of promoting breastfeeding in communities of color. Los Angeles lactation consultant Kimberly Durdin and I will be starting a new online talk show, this month, The RED TENT Salon, that we hope will become a favorite resource for everyone. We will have guests on our monthly show to discuss birth and breastfeeding issues through the lens of the African-American community.
​​This post is part of the #BlkBFing Next Door: Local changemakers in the African-American breastfeeding movement shine for Black History Month. Read more posts here.