Sharing 'Three Kings' Sweet Bread With My Daughter's Class: Recipe and Video Included!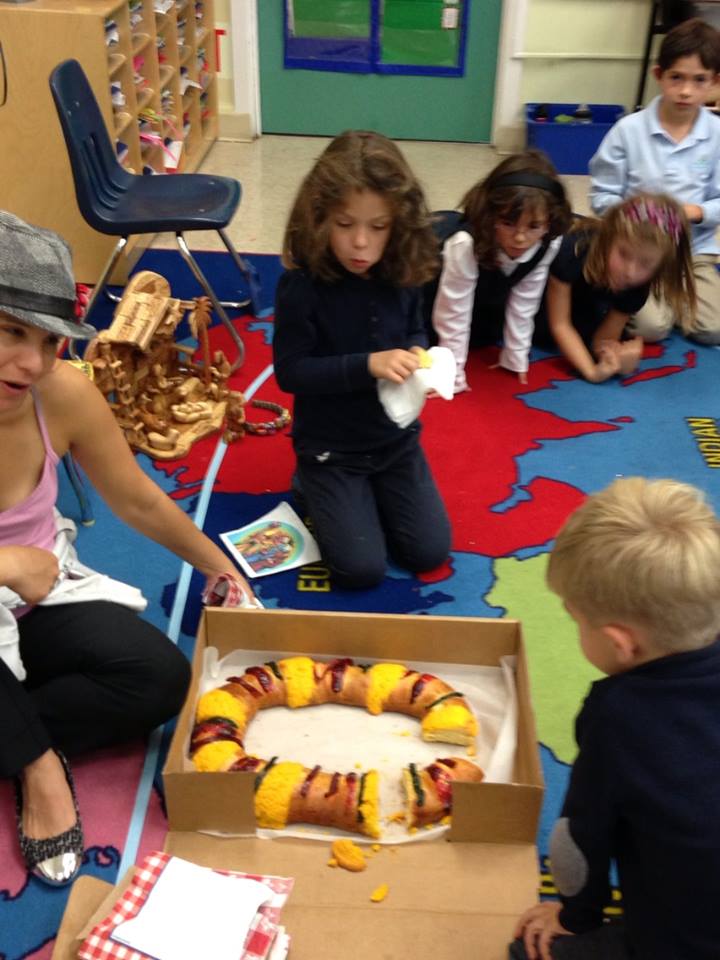 OAKLAND, Calif. -- My daughter's first grade class is studying family traditions. Her teacher invited parents to share their stories, and most recently, it was my turn.
I spoke to the kids about a tradition unique to Latin American, Spanish and Catholic families called "Three Kings Day" or el día de los tres reyes magos.
Celebrated on January 6 of every year, it marks the time that the three kings in the New Testament, Baltazar, Gaspar, and Melchor, came bearing gifts of gold, incense and myrrh for baby Jesus. Every Spanish-speaking country, including Spain, celebrates it in its own way. In the Caribbean where my parents hail, children leave water and grass for the kings' camels in exchange for gifts. In Mexico, children leave their shoes outside the night of January 5 so that the kings can fill them with candy. (Upon learning about this tradition, my daughter wants to test it this year!)
Also, in Mexico (and in Spain), families break a sweet bread known as la rosca de los reyes, which I specially ordered at Bakery El Sol in Oakland. Besides a dessert, it is a game. And while I normally wouldn't advocate for kids to play with their food, I consider la rosca a-yearly-must-but-in-moderation category. :)
The rosca contains at least one Baby Jesus doll. The one I ordered from El Sol had three of them. You can view them in this video here on how to make a rosca:
Typically, the game is played between adults. They choose a slice of the rum cake and whoever ends up with a figurine has to prepare a Three Kings feast the following year. The food includes staples like tamales -- or in Puerto Rico, pasteles wrapped in banana leaves -- rice, beans and more. For kids, they actually want to keep the figurines as toys, therefore thoughtfully select their slices. In my daughter's class, I could see the disappointment in a child's face not finding the Baby Jesus, but then delight in eating something sweet at the end of the day. Two boys and one girl found the plastic Baby Jesus dolls.
Do you celebrate the Three Kings with your children? How?
Here's a recipe for the cake, by the way, courtesy of celebrity chef Ingrid Hoffmann. ¡Que disfruten!