Share Your Story on 10.10.10 - One Day on Earth
Imagine what it's like when musicians from disparate countries, playing diverse instruments, dedicated to different genres come together on one stage, having never met each other before.  Initially the collaboration produces dissonance, but among skilled practitioners dedicated to their craft, disharmony transforms into harmony and something altogether new forms.  This is what took place in 2008 at the World Festival of Sacred Music, and became the inspiration to create a similar collaboration, but this time using the medium of film, with the whole world as its stage.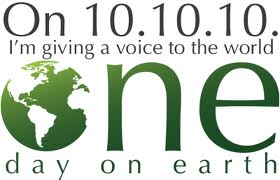 The project One Day on Earth emerged from this experience, with the goal of creating a unique worldwide media event where thousands of participants would simultaneously film over a 24-hour period.  An auspicious day – October 10, 2010, or 10.10.10 – serves as the platform for thousands of people, from every nation, to film their perspective and contribute their voice to the largest participatory media event in history. Imagine individuals from every nation, united around creating something beautiful and powerful, even with the mundane routines of their lives as the starting point. Now, imagine yourself joining in this great participatory exercise.
As the creators of ONE DAY ON EARTH describe, the outcome will be "an online community, a video time capsule, and a film. It explores our planet's identity in the attempt to answer the question: Who are we? WHAT WILL WE SEE? ONE DAY ON EARTH showcases the amazing diversity, conflict, tragedy, and triumph that occurs in one 24‐hour period. What happens in a day? Birth, life, death, and everything the imagination can find in between: from the basic human needs, joys and struggles that unite us, to the unique cultural traditions that give us identity. Thousands of normally untold stories will have another chapter. Through the eyes of citizen filmmakers, we will create an extensive library of international footage and experiences from a single day. What we will exactly see is an unanswerable question. But, as we piece together a mosaic of moving pictures from this archive, we will create a powerful and new perspective of daily life on this planet."
Everyone can participate and the project is free and open to all. Participants include school children in remote classrooms from Ethiopia to Texas, Academy Award nominated filmmakers, to charitable organizations such as 350.org. YOU (or your classroom) can sign up to participate at www.onedayonearth.org. Then, set aside 10.10.10 as a day to create and share.
What an awe-inspiring time we live in when disparate voices from far-away places can create a beautiful harmony.  And what a hopeful message to share with our children who need connection now, more than ever.
---------------
Homa Sabet Tavangar is the author of Growing Up Global: Raising Children to Be At Home in the World, hailed a "Best New Parenting Book" by Scholastic Parent + Child, and a Best Education Book of the Decade.  She is the mother of three girls, in grades 2, 10 and 12, host-mother this year to an AFS exchange student, and a volunteer in the public schools where all four attend.