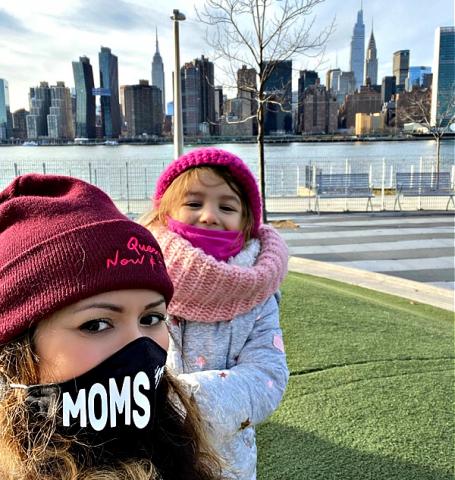 Share Your Stories and Let's Save NY Childcare!
This morning, I took my three year old daughter to a new daycare center for the first time since the pandemic started. After months of delaying the grueling process, and, if I'm being honest, not ready to pick a new daycare for my daughter (I spent months being very upset that my amazing daycare had to close, and I was not ready to look for, or choose any other center… even though now I realize that was detrimental to my mental health and financial situation). 
As I was walking back and planning my day, I thought how fitting that I would be writing this blog post today to talk about advocating for more funding and equitable child care in my state of New York.
As an advocate in this space for a while, I knew that child care was in crisis before the COVID-19 pandemic hit (I even moderated a panel about the child care crisis exactly a year ago, on Jan. 28th, 2020, without knowing what was ahead).  When the crisis hit, COVID-19 sent the childcare sector into a deeper crisis, one that cannot be resolved without massive public investment. 
Never in a million years did I think that MY childcare center would close due to the pandemic. I thought I was safe because my center had a universal pre-kindergarten program, which is funded and paid for by the City of New York. So, when the news came that our child care center would close its doors forever, I literally cried. (and I am still getting teary-eyed as I write this). 
As parents, we simply need child care. It really is that simple. If we don't have child care, we can't work. Child care workers aren't considered essential workers by many leaders, but they should be, because without them, how can others work? Funding and investing in childcare -- from workers to programs -- is simply necessary for our economic recovery. 
I'm excited to share that there is a lot of great work happening in my home state of New York around child care. The Empire State Campaign for Child Care will kick off an advocacy period on February 2nd to make requests for the 2021-2022 budget, and also request some immediate relief for families that cannot wait until April, and need relief now. Some of the immediate needs are: 
o Child care scholarships and subsidies to essential workers, many of whom have been struck by layoffs, or cuts in hours and pay; 
o Stabilization grants to child care providers for the duration of the public health emergency. 
o More families access to child care subsidies
In addition to the requests for much-needed immediate relief, they also have important and timely asks to make sure that child care is being funded properly in this upcoming budget. You can find out more details about the Empire State Campaign for Child Care Budget Asks here. 
It took me many months to get around to finding a new center. Aside from the very emotional process, it is also a financial consideration not to be taken lightly. Childcare providers become members of our families. 
The ESCCC created this powerful and truly moving video where we hear child care providers talk about their work and why they need support! As parents, it's so important to work with our providers and support our providers so they have access to all they need to thrive: living wages, paid sick time and paid leave and other support. It is our duty to support those who support our families and take care of our children. Child care workers are an essential part of the economy and essential to working parents' ability to work. 
WATCH THIS VIDEO on how to support equitable childcare in NY State! 
Please share and support investment in child care by contacting your representatives in Albany and asking them to support funding for child care, and, SHARE YOUR STORIES! 
Lawmakers need to hear our stories… it is only in hearing them from the people that are going through it that they will realize how difficult this is for working parents, childcare providers, families and families. Child care is necessary to the economic recovery of New York, and of our country.