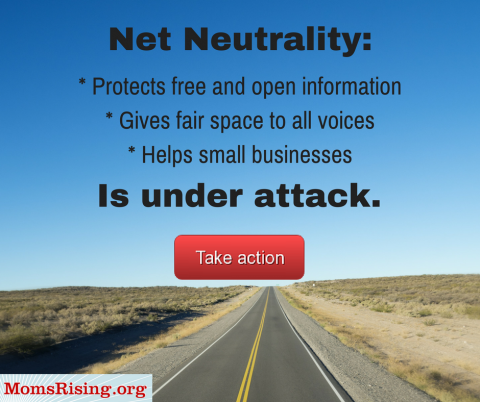 Senate Net Neutrality Vote a Step Forward for Fairness, Free Speech, Consumers and Advocates
We commend every United States Senator who voted to repeal the Federal Communications Commission's changes to net neutrality rules today. This vote is an essential step forward for fairness, free speech, consumers and advocacy groups like MomsRising, which rely on a free Internet to fight for economic and social justice. The House of Representatives must do the same.
Today's vote was a victory for consumers, communities of color, rural Americans and small businesses, many of which are owned by women. Net neutrality means that when we raise our voices online, they can be heard. It stops Internet Service Providers from blocking or suppressing content and prevents them from manipulating the speed at which consumers receive certain content or selling premium access to the highest bidder.
The Internet has changed the nature of grassroots organizing and created a space where people who have long been marginalized can be heard. MomsRising moves policy forward every day using Internet-related tools like sharing personal stories from our members with leaders online, gathering signatures on online petitions, sending constituent tweets to members of Congress, sharing Facebook posts and more. These and similar tools leverage the power of the people and open avenues for busy people to be heard by leaders at the top – and they depend on a free and fair Internet.
Similarly, the Internet has enabled tremendous innovation in every sector. From a mom opening a business in her home, to a community making its voice heard about an injustice that needs to be addressed, a fair and open Internet is making our conversations, communities and economy stronger.
An open internet is essential to protecting our ability to speak out, to connect and hear diverse voices, and to sharing our opinions with leaders who have the power to make the changes we seek. We are grateful that a majority of U.S. Senators recognized that and passed the Resolution of Disapproval today, and we urge the House to vote to protect net neutrality as well. The country needs Congress to protect net neutrality and ensure a level playing field for Internet access.