Sen. Tom Harkin: Paid sick days stories "incredibly compelling"
On July 28th, MomsRising's campaign director, Donna Norton, presented me with a collection of stories from MomsRising members in Iowa and across the country about the need for paid sick days. These stories are incredibly compelling.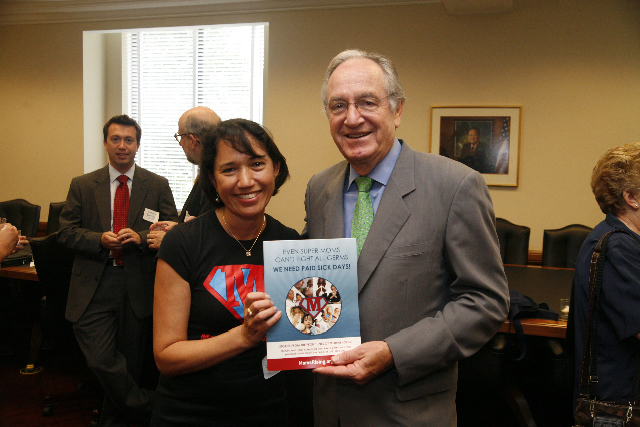 Donna presents Sen. Harkin the MomsRising members' PSD book
I was particularly concerned by the story of an Iowa MomsRising member who works at a hospital that does not offer paid sick days. As a result, many workers are forced to come to work at the hospital when they are sick because they can't afford to lose a day's pay or put their jobs in jeopardy. This is not only puts the health of the sick worker at risk, it also creates a significant public health concern that affects all our families and communities.
In fact, it is a big problem for all of us when four in ten American workers cannot earn even a single paid sick day. We are all affected when nearly 80 percent of workers who are in fields that require frequent contact with the public -- such as restaurant, retail and childcare workers -- do not earn paid sick days. And this issue is of particular concern for working mothers. Studies have shown that half of all working mothers and three-quarters of low-wage working mothers cannot take a paid day off to care for a sick child. These mothers face a terrible choice: forgo a day's pay, possibly jeopardize their job, leave sick children home alone or send them to school sick.
That is why I am a proud co-sponsor of the Healthy Families Act (HR 2460/S 1152), which would enable workers to earn up to seven paid sick days a year to recover from short-term illness, care for a sick family member, obtain routine medical care or seek assistance related to domestic violence, sexual assault or stalking. Workers would earn one hour of paid sick time for every 30 hours worked, up to 56 hours (seven days) per year, unless the employer selects a higher limit.
According to the Joint Economic Committee, this important legislation would benefit more than 30 million workers and their families and communities, in Iowa and across the country. I look forward to working with my colleagues in the Senate to pass this important bill into law.
I want to thank those of you have shared your stories and contacted your elected officials in support of paid sick days and encourage you to keep up the good work. Together we can get Americans the paid leave they so rightly deserve.