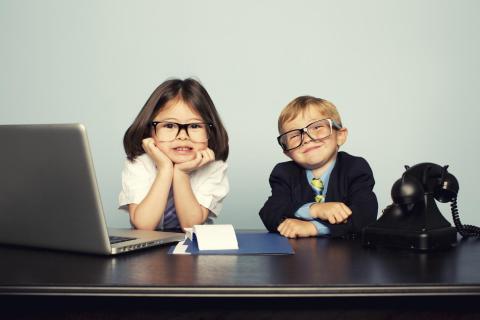 Seattle moms work to boost women in business (and provide affordable childcare while they're at it)
Childcare. It's a topic that is always top of mind for mothers as we want someone to care for our kids like we do. Our questions and concerns never ease up and finding quality, affordable childcare is one of the biggest struggles today for families. It's a logistical and emotional rollercoaster to find the right care for young children and the burden of this falls typically falls on mothers.
I myself have struggled with the childcare issue and it was one of the reasons why I didn't return back to full-time corporate work after having my first son in 2009. Having been a recent transplant to Seattle at the time, I didn't have the family support to help me and it was too great of a emotional and financial cost to put my son into full-time childcare.
I fortunately had a choice, but for many mothers finding full-time childcare is their only choice and it just isn't serving their needs. It's expensive, inflexible and time is lost in transit between offices, homes and childcare centers.

The Women's Business Incubator, a Seattle nonprofit, wants to offer a viable solution by creating a co-working space with onsite, flexible childcare in the Greater Seattle area. As women-owned businesses grow every year (in fact they have been growing five times the national average for the past nine years), we want to provide mothers with a supportive, flexible environment so they can be successful in their careers and in motherhood.
As a WBI Board Member, I can tell you that we have spent our initial year building our community through our monthly networking events and our pop-up coworking with childcare series which all took place at the Wunderkind play cafe in the Bryant/Ravenna neighborhood of Seattle. It's been a great opportunity to meet local female entrepreneurs and freelancers, discuss various business topics, and have a safe place for women to freely share their professional and personal goals and issues.
With this momentum, I am excited to announce that the WBI is making its dream a reality as we have recently partnered with St. Andrew's Episcopal Church to create a coworking space with an onsite preschool in the Green Lake neighborhood of Seattle. With a plan to open the space by February 2017, the WBI will form the first coworking with onsite childcare space in WA State.
The MomsRising community is invited to join our launch party on Wednesday, December 14th from 11am-1pm at St. Andrew's Church, 111 NE 80th St, Seattle, WA 98115. Attendees can enjoy seeing a sneak peek of our space, viewing our vendor showcase and networking with other female entrepreneurs, freelancers and business owners. Don't forget to bring your little ones too as we will have holiday crafts and a free rockin' music class with Songs for Seeds. Learn more and RSVP at http://bit.ly/wbilaunchparty!
The WBI is excited to move into this next phase of our young organization's development. This is just the beginning and we look forward to helping women with other obstacles they may face in business such as access to capital, mentorship and business training. We look forward to seeing how our vision evolves and affects positive changes for working families in Seattle and beyond. We hope to see you at our event!