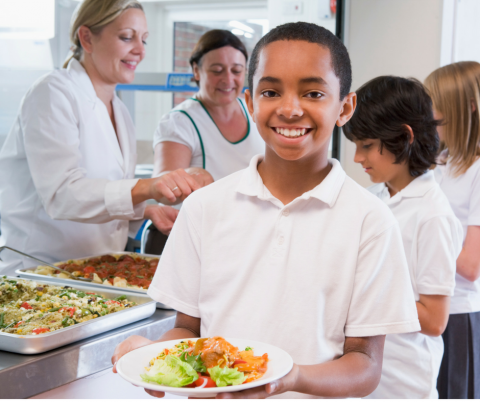 Schools Need to Hear from Parents Like Us!
Happy Back to School! It's that time of year when the kids head back, the weather turns cooler, and everything seems to accelerate a bit.
It's also a great time of year to make some friendly noise for healthy schools! We have done so much in recent years, from implementing new healthy meal standards to updating school wellness policies. We've spoken out about the importance of dual-language learning, helped school districts revise and eliminate harmful school discipline policies, and created supportive and safe spaces for our kids to learn. With great success!
But as any parent knows, getting into the swing of new habits takes time. That's where you come in!
Can you help us make some noise for healthy schools, and drop off (or email) a packet of useful tips to your local school this month?
Find out more and sign up to deliver a Power Pack here!
The 2017 Healthy School Power Pack includes:
Inspiring stories from parents like you;
Snapshots of schools doing great things around wellness;
Useful resources from leading experts working on water, physical education, marketing in schools, school foods, dual language learning, school discipline and dismantling the school-to-prison pipeline, social emotional development, trauma-informed care, and restorative justice.
And bonus! The Power Pack includes a few things for you too, including:
Tips for getting involved in your school;
A copy of our Secret Agent Moms graphic novel;
A guide for talking to kids about race;
Some fun swag to thank you for being such a rockstar!
Check it out! It takes just a minute: you can deliver the Power Pack by email or in person! 
Thousands of us have spoken out about the importance of healthy school meals in recent years, and now 98% of schools are meeting the healthy meal standards. And school administrators say that the majority of students like the new healthy meals, too. [1] Wow! On the social emotional health front, several major school districts have taken huge strides to dismantle the school-to-prison pipeline.
But make no mistake: there's more to do. Only 1 in 3 kids gets enough exercise each day. [2] Companies still sneak ads into schools through sponsorships, fundraisers and more. Many districts and educators are still learning how to best lift up the languages and cultures of our communities. And many schools don't test for contaminants like lead in drinking water [3]. And we still have a long way to go in ending out-of-school suspensions, promoting social emotional learning and trauma-informed care, and creating mindfulness policies, and developing restorative justice models.
Parents need to speak out and back schools up. It's quick, easy and impactful. You in?
We're setting a goal of getting 500 Power Packs into schools this fall. And we really need your help to succeed. 
This is our ground game. Getting new policies in place is one thing. Helping schools really succeed in implementing them is another.
Our voices make a huge difference. The Power Pack contains inspiring quotes from parents like you including: 
"Junk food has no place in our schools - we are trying to instill healthy habits in our kids, so they will feel better and do better in school." - Nadya, CA
"Water should be safe anywhere and everywhere, but especially at schools. These children are our future." - Janice, NJ
"As a third grade teacher and a mom, I know how much kids need to MOVE in order to LEARN!" - Caitlin, VY
We know schools are eager for parent support when it comes to building a healthy school day. We also know that a healthy day contributes to improved performance and learning outcomes for our kids.  
Help us get stories and resources into the hands of as many schools as possible this fall. Sign up to drop off a Power Pack to your school, in person or by email! 
Signing up is easy! When you do, you can indicate whether you'd like to deliver a print or electronic copy of the toolkit. The print copies are colorful and fun to read. The electronic copies are quick and easy to send. Either way, they have a big impact. 
Healthy schools are possible. Let's bring that same parent-energy we use to encourage kids to tie their shoes, do their homework, and eat veggies to our schools! Schools really need to hear from us! After all, it takes all of us to build healthy communities for our kids.
Thank you! Together we're a voice for healthy kids and families!
[1] A Healthy New Era for School Meals, Robert Wood Johnson Foundation  
[2] President's Council on Fitness, Sports and Nutrition. 
[3] Check out this compilation of reports of school water contamination from the National Drinking Water Alliance.