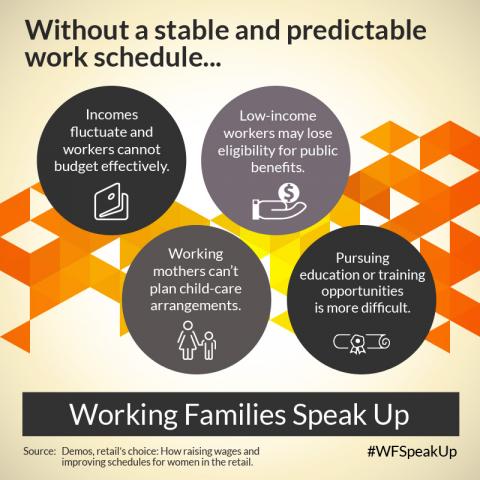 Schedules That Work for Workers
A few weeks ago, President Obama convened a White House Summit on Working Families, an event attended by national leaders in business and labor. The event was designed to put the issues of working families under a national spotlight.
I was proud to participate in this event, representing the AFL-CIO and millions of workers throughout the country, and I wrote at the time that collective action following the summit would be the true measure of the summit's success. While the summit brought much-needed attention to urgent issues facing working families, we need real solutions to help us meet the challenges we face.
So I applaud Reps. George Miller (D-Calif.) and Rosa DeLauro (D-Conn.) for taking an important step to deliver on the promise with their introduction of the Schedules That Work Act last month.
Millions of hourly workers struggle under the burden of last-minute, unpredictable work scheduling practices. If you're a full-time salaried employee, try to imagine finding out a day or two ahead of time what your work hours for the week will be. Now imagine you have no control over that schedule, whether your shift gets canceled unexpectedly and there is no way to make adjustments so you can manage care for your children, take care of a parent or make your own medical appointments. This is the reality for too many working families, especially those with jobs in retail, food service and cleaning. And part of the reality is that the vast majority of these jobs are held by women.
If we want families to succeed—a goal endorsed, without exception, by policy makers of every stripe—workers need schedules that work for their families.
The Schedules That Work Act would help America's workers by:
·         Allowing workers to request a flexible schedule without fear of retaliation;
·         Implementing a process that helps employers consider their requests;
·         Mandating that workers in retail, food service and cleaning fields would receive their schedules at least two weeks in advance and they would be paid for at least four hours of work if they report to work when scheduled but are sent home early; and
·         Providing an extra hour of pay if a worker has split shifts on the same day.
These issues rarely make the evening news, but each night, in every corner of this great nation, these issues are on the minds of more and more people. 
Much more needs to be done, of course. While some states have increased the minimum wage, millions of hourly workers remain in poverty as they struggle to make a living wage. Millions more lack paid leave, a severe restriction on their ability to manage their families.
In fact, Walmart, the nation's largest private employer, hits employees with a double whammy, paying about two-thirds of its employees less than $25,000 and maintaining irregular scheduling that prohibits most of its workers from earning what they need to support their families.
Our work is just beginning. For working families, the summit was an important milestone. And the Schedules That Work Act is an important first step to fulfilling the promise of the summit. 
Support the Schedules That Work Act by contacting your elected officials today!