Take Action!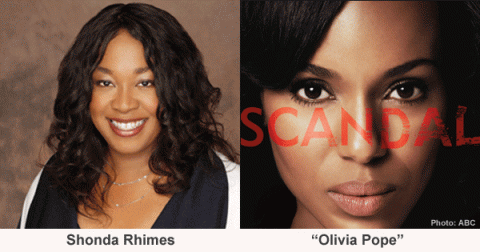 "Scandal" champions women!
Scandal, the show created by one of the few women writers and producers working on primetime TV, Shonda Rhimes, regularly has us buzzing with excitement on Thursday nights when it airs. And we are particularly excited right now because of how the new season is unfolding. Already, the Emmy-award winning program has taken on:
Violence against women
Unequal pay
Paid family leave (maternity/paternity leave)
Sexual harassment in the workplace
And gun violence…
… all in just the first three episodes!
Here's what Olivia Pope, Scandal's main character, actually said in a recent episode:
"Somehow, she still makes 77 cents to every male dollar. No matter what face we present to the world, we know our worth. We know what we're capable of. We know who we are, who we'll always be. And we have a choice: We can hide in the shadows or we can stand in the light…"
Could you just die from from the thrill and exitement of seeing a TV character spout statistics and champion equal pay like that on primetime TV? And indeed, by weaving our real-life problems into the very fabric of Scandal's dialog and plots -- like unequal pay, sexual harassment, and gun violence -- Shonda Rhimes helps women "stand in the light."
Women and families across the nation need to take a moment to thank Shonda Rhimes for shining a primetime spotlight on the real-life problems that we face each day. Why? Because the real scandal in Hollywood is that women comprise just 27% of creators, executive producers, producers, writers, directors, editors, and directors of photography working on primetime programs airing on the broadcast networks. That's why Ms. Rhimes is such a game changer. When we thank Shonda Rhimes for her leadership in exploring the problems that impact women and families every day in her shows, we encourage other television writers and producers to follow her amazing example AND we also encourage network executives to hire more women to create compelling programming.
Public policy often catches up with public opinion, and shows like Scandal help shape public opinion in important ways. Can you imagine the progress for women and families if we had more champions like Ms. Rhimes behind the scenes and calling the shots in more places in Hollywood?
Please take a moment and help us thank Shonda Rhimes now for championing women in her shows and for shaping popular culture to help bring positive solutions to real-life problems!
SIGN ON TO MOMSRISING'S THANK YOU MESSAGE NOW: http://action.momsrising.org/sign/ThanksShonda/
And let's be sure to continue tuning in to Ms. Rhimes' shows to make sure their ratings stay sky high and on the air!