Take Action!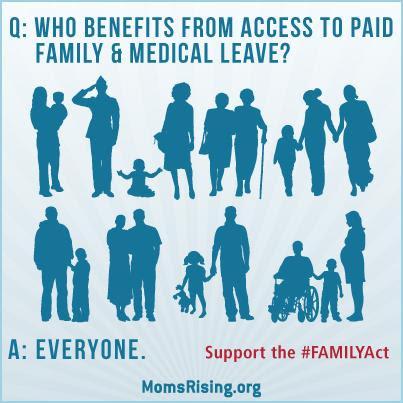 Say NO to fake solutions: We need paid leave now!
I'm going to get right to the point. U.S. Senators Marco Rubio, Mike Lee, and Joni Ernst are working on a proposal to raid Social Security to give income to parents of a new child. This is like robbing Peter to pay Paul. It quite simply doesn't work.
While we appreciate that the need for paid leave has become a bipartisan issue since the last election, the truth is that the Rubio proposal is dangerously flawed for two big reasons: It asks new parents to jeopardize their future retirement security for parental leave today AND the proposal neglects the majority of people who take leave, whether that's for family caregiving or personal medical needs.
→ Tell your U.S. Senator: We don't need fake solutions, we need comprehensive paid family and medical leave. It's time to support the Family and Medical Insurance Leave Act (FAMILY Act)!
This is urgent because the U.S. Senate is holding a hearing on both of these proposals today which means NOW is the time to act!
There is a solution — a good one! — to the crisis working families face due to the lack of paid leave. The Family and Medical Leave Insurance Act (FAMILY Act) is a comprehensive paid leave plan that leaves no one behind and is modeled after successful and proven programs in California, New Jersey, and more.
The FAMILY Act is an insurance program that would provide workers — including those who are self-employed and/or work part time — with much-needed income while they, or a family member, deal with the arrival of a new baby or a serious health issue. This new, self-sustaining program would be funded through very small, shared costs to employees and employers.
→ Tell your U.S. Senator: We need a real national paid leave program that reflects the many caregiving needs that working families face. Sign on and sponsor the FAMILY Act!
Working people in the United States need a national comprehensive and robust paid family and medical leave program that is more than just maternity and paternity leave and that does not threaten retirement income. We need a real paid leave plan that enables working people to take a meaningful length of leave to care for themselves, a family member with a serious illness, or the arrival of a new child. We need a real paid leave plan that is accessible to all working people, covers all families, and is affordable, cost-effective and sustainable for workers, employers, and taxpayers.
And we need it now.
What's the urgency? Right now, only 15% of workers in the United States have access to paid leave through their employers. This means that when the unexpected happens, most families end up cobbling together some combination of vacation time and sick days and then cross their fingers that nothing goes wrong and that they'll be able to make ends meet.
When it comes to meeting the needs of working families in the United States, we're really behind the times, and we need to get caught up. Passing the FAMILY Act will help every family in America.
Look — the bad news out of DC these days is relentless. We absolutely have to keep fighting the Administration's attempts to drag our nation backwards. At the same time, we must take advantage of every opportunity to push our nation forward too, and the hearing on paid leave today gives us this opportunity to make it clear to our U.S. Senators that we're paying attention and that details matter. We don't want lip service on paid leave — we don't want flawed plans that force parents into impossible choices and leave too many of us behind.
And we do NOT have to settle for "something is better than nothing" when it comes to our families. Care is care is care: Whether it's to care for a newborn you swear already smiles, a mom who is severely ill, or a spouse battling cancer, being there for family is what matters. No one should permanently lose their job when an urgent and unexpected family matter arises.
*****Take action now and be sure to share this link below with your friends and family so they can take action too.
action.momsrising.org/sign/FAMILYAct2018/?t=blog
P.S. Do you have a personal experience you can share about the need for paid family and medical leave? Either how it's helped your family or how you've struggled without it? Tell us about it and we'll share with decision makers to help them understand why paid family and medical leave is so important!