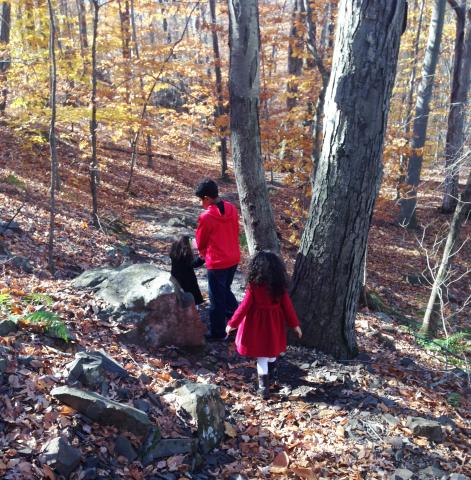 Say NO To A Muslim Registry
I am a Muslim mom.
My family is probably a lot like yours. I joined MomsRising because I was concerned about our kids having access to healthy school lunches. I signed up to support paid family/medical leave because I knew from experience working mothers had to make hard choices after giving birth. I saw what my young family needed and wanted to help make sure all our kids have access to high quality, affordable childcare that meets their social and emotional needs.
There are many Muslim families just like mine across the country.
President-elect Trump has proposed instituting a "Muslim registry" once he gets into office. That's hard for me to understand and is hard to explain to my children—that families like ours won't be protected by the First Amendment—that we may be registered and tracked simply because of our faith. 
**Join me in calling on the President to protect families like mine from a Muslim registry!
No mom or dad, son or daughter, should have to experience this type of fear in the United States of America. There are some fairly simple steps that President Obama can take right now to stop a Muslim registry. It's complicated, but here are the details: During the Bush administration, a structure called National Security Entry-Exit Registration System (NSEERS) was created to track immigrants from Muslim countries. It was expensive-- it needlessly separated families, breaking hearts, pushing people toward poverty, and cost taxpayers 10 million dollars annually -- and it was ineffective. Out of all the registrations, zero men were ever connected to any violent activity!! 
President Obama stopped the use of NSEERs in 2011-- but the structure still exists -- ready to be amped up to track people once again. In fact, members of President Elect Trump's transition team have indicated they're ready to "update and reintroduce the NSEERS screening and tracking system." That's NOT good for our families, for our economy, or for our country.
**The time to act is now! Sign our open letter to President Obama to protect Muslim families from having to register. http://action.momsrising.org/sign/no-muslim-registry/
There are simple steps that President Obama can take to make it much harder to start this proposed "Muslim registry." For instance, he can take NSEERs apart right now. But if NSEERs isn't completely dismantled, President-elect Trump can amp it up and start using it the day he enters the Oval Office.
On Wednesday, fifty-one House Democrats signed a letter to Obama and Homeland Security Secretary Jeh Johnson asking them to rescind NSEERs, saying: "We stand together in opposition to policies that would target people based on their religion, race, ethnicity or national origin. We urge the Administration to immediately rescind the NSEERS regulation as a re-affirmation of its commitment to equal protection under the law." 
Affirming our equal protections isn't just about Muslim families -- it is about all our families. Taking away basic civil rights of any minority group creates an opening to undermine the rights of all other groups.
** Add your name now! Stand with fifty-one legislators and call for an end to the "Muslim Registry"!
NSEERs was created in a time of national crisis- our nation was in pain and it was hard to have open discussions about the best way to move forward. Now we have an opportunity to make sure NSEERs doesn't happen again.
** Add to the momentum! Ask your friends and family to sign our petition, too, by forwarding this link: http://action.momsrising.org/sign/no-muslim-registry/
Together we are a powerful voice for ALL families.