Saving the Best School Supply for Last - Comment for a Give-Away!
With school supply shopping for three daughters at three different schools safely behind us, there's one last item I'm actually excited about.  It isn't on a single school supply list and doesn't have a power cord, but it's essential for 21st Century learning - which is why I wanted to share this with the MomsRising Community.
It's a world map.
One of the most-cited suggestions from Growing Up Global is also one of the simplest:  "Keep the world at your fingertips. Purchase an up-to-date globe and keep it handy for easy reference. Cover a wall near the kitchen table or other central location with an oversized, laminated world map. (There's nothing like munching on cereal in the morning and staring at the geography of Indonesia.)"
A world map serves as a perfect window to our wider "home."  When you keep a globe or world atlas handy, your children will be more likely to start visualizing the range of countries and your area in relation to so many others.  Current events, new neighbors, folk tales, sports teams and unfamiliar names can be matched with a spot on the earth, seen in context with other locations, and maybe start to make more sense, especially for young minds whose familiarity with the wider world will be imperative as they grow.
In spite of how helpful it is to know where we are in the world and where we might like to go, our kids get almost no world geography exposure in school.  In the 2006 National Geographic/Roper poll, half the eighteen to twenty-four-year-olds surveyed could not find New York on the map and sixty-three percent of them could not find Iraq, even though tens of thousands in their own peer group were deployed in war there since 2003. There's no reason to believe the numbers have improved, as more schools are doing away with geography and world language study every year.
This makes our efforts at home matter more than ever.  There's a proliferation of globe-inspired products, like area rugs, shower curtains, puzzles, and especially, awesome wall maps.  Learning about the world can be informative as well as fun and beautiful.
Here are a few of my favorite maps (and keep reading to win one each week!), described in order from top to bottom: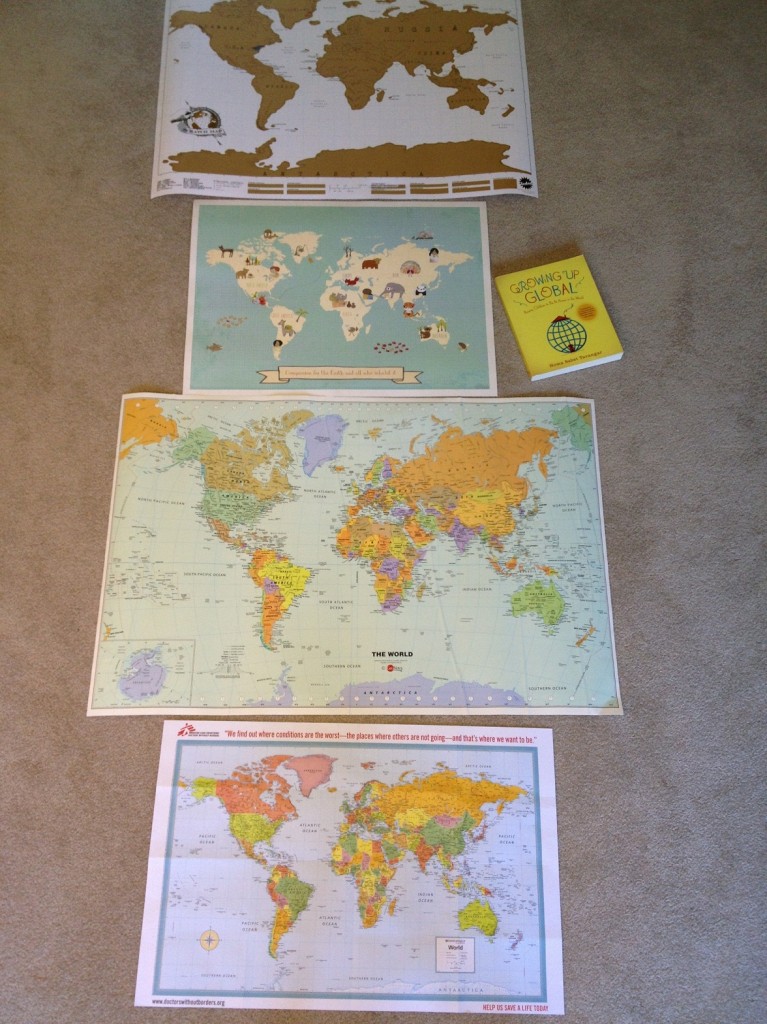 I am excited the companies making the first three maps have ALL agreed to a GIVE AWAY.  I'll run one contest per week, starting with Uncommon Goods (also on Facebook and Pinterest) this week, which has generously offered a $50 Gift Certificate for the winner.  To be entered to win, please share in the comments here and/or on Growing Up Global Facebook page, or at the growingupglobal.net blog:  Where would you hang your World Scratch Map? Or anything else you'd care to share!  Multiple responses on various sites improve your chances in the random drawing.
(Disclosure: these companies sent me sample maps for review, but I receive no compensation from any of them.)