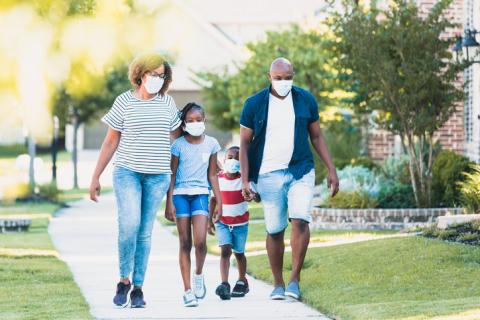 #SAVETHE600 Coalition and Unemployed Workers Call on Congress to Immediately Address the Crisis Millions of Unemployed People Are Now Facing
Following is a statement from the 

#SAVETHE600 Coalition

:
There should be no greater priority for our nation's elected officials than ensuring people are able to stay afloat and make ends meet during this global pandemic. Tens of millions of people are facing unemployment and are suffering because emergency unemployment payments were left to expire. Our economy is in crisis, and yet the Senate Republican leadership repeatedly fails to respond to the increasingly desperate needs of their constituents and the demands of millions of people across the country.
Instead of focusing on the urgent needs of the people, Senate Majority Leader Mitch McConnell has signaled that he will quickly move forward with trying to confirm the President's Supreme Court nominee, a matter that is particularly time sensitive to the Republican Senate majority because of the election. But the millions of unemployed workers depending on unemployment payments for their lifeline have been in crisis for months. There is no excuse to ignore the plight of millions of people and families right now. While the Supreme Court is vitally important, there is no rush to fill the vacancy in record speed at the expense of helping unemployed workers. The Court will only hear 12 cases before the election. During the same period, millions of Americans will face housing and food crises.
We are in an economic crisis and millions of people are suffering from unemployment and underemployment. The economy had nearly 12 million fewer jobs in August than it did in February, and an unprecedented number of people across the country are facing the violence of evictions, hunger, and mounting debt.
Despite a fall in the overall unemployment rate, structural racism has ensured that unemployment remains in double digits for Black, Asian, and Hispanic populations. Right now, Black unemployment remains higher than white unemployment was at the height of the Great Recession. Workers of color and underpaid workers are bearing the brunt of an economy that has intentionally excluded and discriminated against them. We have 831,000 fewer state and local government workers than we did when this crisis began, including 306,400 fewer education workers compared to August 2019. Yet the Senate's Republican leaders have demonstrated total disregard for the pressing needs of working and poor people.
As this pandemic and recession have so clearly shown, our economy is made up of workers and communities. Our communities are struggling and, while mutual aid and organizing responses have demonstrated how we support each other and show our true values, the government has an essential role and responsibility to provide just relief and economic security for all at this moment. 
Congress must respond to our recession and address the needs and demands of workers by restoring the emergency unemployment payments that served as a lifeline to millions of workers and families. Members must provide funding to state and local governments, ensure paid sick leave and childcare for all working people, and deliver relief for workers in the informal economy, immigrants, and those otherwise ineligible for unemployment payments. 
WORKER STORIES
Ashley - South Carolina
"I was a sommelier and General Manager for a local Charleston restaurant.  I was laid off from my position and then it was eliminated because they thought they could have one manager for both of their restaurants (also I was the higher paid in salary so they saved money by letting me go).  Right now in Charleston there are no management positions in restaurants and no positions in wine unless I want to work at Total Wine making $15 an hour.  I went from $65,000 a year to $48,000 on unemployment but at least I can pay for my home, bills and groceries.  The idea of going back to work scares me as well as I have acute asthma and the coronavirus is just now spreading badly in South Carolina.  If Congress does not extend unemployment (or if I have to take a basic job position at $15 an hour) I would not be able to afford my home and would not be able to pay my bills including student loans, energy, water, phone, etc.  I don't have the money to move.  Also, going to work as South Carolina is spiking would mean if I got sick I couldn't get afford medical treatment since my insurance was cancelled when I lost my job.  I went from working hard for 12 years in my career and being one of only 6 in the state with my accreditations to not being able to afford my own home anymore."
Tonya - Maryland
"I am only receiving $184 in benefits without the $600. I work as a substitute teacher and I used to work as an Amazon and Postmate van delivery/warehouse worker out of Rockville, MD. I am a mother with a 7 year old and 17 year old. Being a Substitute it's a terrible weight on my shoulders trying to Virtually Sub and assist my son during in classes. He has a speech impairment and my full attention is needed during this home stay. Filling the Supreme Court seat is not as urgent as fulfilling the hearts & souls of Americans who desperately need help. Americans are being played like pawns in this terrible time before the Election."
Carolyn - Utah
I worked for 13 year in the printing industry.  My former employer was able to secure a PPP loan, but once they met all the stipulations to get the loan forgiven, they did a mass layoff the last week of July. I have over 15 years of accounting and human resource experience.  I have a Bachelor's degree.  I'm not finding many jobs where I can utilize my skills that pay a living wage.  Many of the employers out there are requiring a Master's degree or a CPA certification for a low paying job.   I'm single, over 50 and I don't have anyone to fall back on to pay the mortgage or my car payment.  I currently don't have health insurance.
Magdalena -  Florida
"I am in the music business of shows and entertainment and lost my job March 11th, since live entertainment is off. I am a single mom of 4 and honestly I don't know how I will make it thru. I depend on my live concert business to provide my family, and doesn't look it will come back until mid 2021. Will lose it all: housing, food, all."
Nura – Georgia
Nura is a single mom of a sixth grader with Downs Syndrome. She was working two restaurant jobs in Atlanta (as a server) before the pandemic but lost both of them when things shut down. In such a tough job market, she hasn't been able to – and worries she won't be able to – find a job that will enable her to make ends meet. The additional federal unemployment funds from the CARES Act had been helping her keep her head above water, but she has still struggled to keep up with student loans and other expenses. Many therapy programs and other services for her son that made a huge difference to him were cut by the state when the pandemic happened. Now she's left Atlanta and moved into her mom's house because they couldn't afford to stay in Atlanta w/o the $600 boost.
Molly – Nevada
Molly lives in Henderson, Nevada. She and her partner have a five-year-old daughter and Molly is pregnant, due in November and has been hospitalized due to complications with the pregnancy. Before the pandemic, Molly was not able to work except for a few very part-time jobs because they could not afford child care. Her partner was laid off from his job in a factory in mid-March. It took them months to finally get their UI application processed and receive funds. That caused a financial crisis for them and their landlord constantly threatens them. She and her partner have both been applying for dozens of jobs. She had been looking to work as a receptionist in a salon to earn money to renew her cosmetology license. But even if she and her partner were able to find jobs, child care will be a huge barrier. She is also worried about the virus – as a pregnant woman, she is high risk, and they live with her mom, who has COPD.
Jared and Karla – Florida
Jared and Karla live in St. Augustine, Florida with their 13-year-old, 12-year-old and 15-month-old. Jared worked at a timeshare company but was indefinitely furloughed in mid-March. Applying for UI was a headache that took several weeks, but they were approved and got the $600 boost and the pandemic boost to SNAP (which they said was essential because it was so tough to buy groceries earlier). They're able to pay for necessities without stress and they've even been able to buy simple things like a sprinkler mat to keep their kids occupied while they can't go anywhere. Without the $600 boost, Jared would only be receiving 25% of his paycheck and they wouldn't be able to cover necessities.
###
The Save The 600 coalition is comprised of 22 organizations including Center for Popular Democracy, Georgetown Center on Poverty and Inequality, Jobs with Justice, MomsRising, National Employment Law Project, Unemployed Action, among others.