Sacrificing Children for the Love of Guns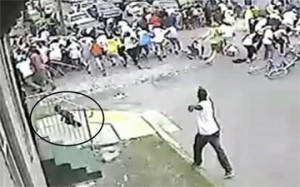 Look at this picture, part of several released by the New Orleans Police Department on May 13. Is that a small child running alone from the shooter? So young, so small, and already he's had to learn to escape a bullet.
The man is aiming a gun into a crowd attending a New Orleans Mother's Day Second Line Parade. He and his partner wounded 19 people. Another person was injured when she fell. Suspects have since been arrested for the shooting along with alleged gang members, accomplices after the fact. Somebody shoots; somebody gets arrested. Most people think that's all there is, but I keep thinking about that anonymous child, running and what's ahead for him.
Children who must learn to deal with gun violence as a part of daily life get get lost in our windy debates about everything else that we deem more important. For instance, did you know that First Lady Michelle Obama was speaking passionately about young people who face the threat of gun violence when that heckler hijacked the moment this month?
Someone's always ready to steer the discussion away from the futures of children negotiating gun violence. Oh, you want talk about gun violence in your community? Let's talk about the individual's responsibility and single mothers instead. Oh, you want to talk about gun laws saving lives? Let's discuss the second amendment and my individual right to bear arms instead. Let's discuss everything but real people hurt by gun violence.
I wrote about the Mother's Day shooting last month at BlogHer.com and victims of gun violence who are not necessarily riddled with literal bullets themselves, such as mothers who've lost children in shootings. Somebody said on Twitter that the post shows how we're all six degrees from a bullet. If you read the post, you may sense my frustration.
What bothered me most when I was asked to write about the shooting was my suspicion that few people would care about New Orleans gun violence, despite children being involved.  A mass shooting in a community like Newtown always gets more attention than gun violence where frequent shootings have become as unremarkable as wall paint. Also, many Americans, especially many American politicians, appear to feel "not my city, not my neighborhood, not my problem."
But it's not like the Newtown shooting stood alone. In the last 12 months the nation has also witnessed major mass shootings at a movie theater and a temple. Despite these horrors and the carnage of smaller shootings with multiple victims, some pro-gun politicos point to a recent Pew report that says gun violence has declined in the past two decades as though thousands of gun-related deaths each year are acceptable collateral damage for the nation's love affair with guns. "Our weaker laws work," they say. "Free more guns, lock up more people."
Well, I live in Louisiana, a state where we lock up more people than anyplace else and where leaders have not seen a tough crime or loose gun law they don't love. On May 30, for example, our state legislature passed a bill to give gun owners lifetime concealed weapon permits. Meanwhile, Sen. David Vitter (R-La.) has proposed a bill in Washington to stop some felons from ever receiving food stamps and to prevent poor people from receiving cell phones.
Louisiana has the worst gun murder rate in the nation. According to one report, "Between 2001 and 2010, 4,519 people were killed by guns here, more than a thousand more losses than U.S. combat troops suffered during the Iraq War."  These numbers get personal fast. Last year I looked up and discovered I knew three people shot in my city in the same year, and neither I nor members of my family are involved with drugs or gangs. So, something is wrong.
Despite gun-lobby talking points to the contrary, there is a correlation between stricter gun laws and lower rates of gun violence. This fact seems like common sense to me. In the meantime, while the powerful duel coolly with statistics, we watch people die because in our real, passionate world, people don't duel with statistics. They duel with guns. So, those fighting stricter gun control have blood on their hands.
In Louisiana, our leaders implement punitive rather than preventive policies. They uphold tough sentencing laws and are proud to have one of the highest incarceration rates in the nation. Voters continue to elect representatives who take a "let the bullets fly" approach to gun control despite our also having the highest rate of children killed with guns. Still, as prison budgets swell, education and health care budgets shrink.
When I see that picture of a child running from bullets on the streets of New Orleans and consider how my state addresses our gun violence crisis, I think our priorities are upside down. We are crazy, doing the same things but expecting different results. Whatever Louisiana has been doing regarding guns, this nation needs to do the opposite.
This post is part of the project, "Sorrow, Anger, ACTION! - A Gathering of Voices Against Gun Violence," organized by MomsRising, PICO Network, UltraViolet, Children's Defense Fund and the National Network to End Domestic Violence.