Rural Hispanic Community Holds First-Ever Twitter Town Hall
On August 14, the Rio Arriba Community Health Council will hold All Things Medicaid, our first ever Twitter Town Hall. Some of my readers know that I went to Netroots Nation this year to learn how to put together a Twitter Town Hall to help my community, which is tucked away in the Rocky Mountains, communicate without the mediation of outside press. Momsrising members like Elisa Batista and Dr. Kim Ellis (@drgoddess) showed me the ropes as per the video link below.
Lujan and a constituent[/caption]I came home and began putting together what I thought would be a very nice Medicaid enrollment campaign. I asked Congressman Ben Ray Lujan to moderate a Twitter Town Hall. I would train local residents to tweet in their questions about new programs. He and a panel of Medicaid experts would tweet back answers. Here are the new programs available under the Affordable Care Act. Here's who's eligible. Here's how you enroll.
[caption id="attachment_32052" align="alignnone" width="300"]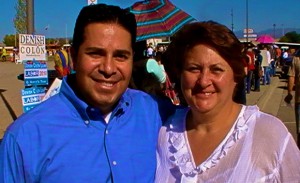 Nice and easy, like eating cotton candy. Right?
Turns out, things were a little more complicated. A few weeks ago, after plans for the Twitter Town Hall had been finalized, Sidonie Squier, the NM HSD director suddenly announced a bold new direction that was not received well by our community, nor, it seems, by anyone east of Arizona or west of Texas. Claiming "widespread and egregious fraud" on the part of all 15 of New Mexico's large behavioral health providers, she terminated their funding and simultaneously pulled five expensive contracts for replacement firms from Arizona out of a hat. So far, she has not released any of the findings of the secret report she commissioned that lead to the shut down, so nobody knows what constitutes her claims of fraud.
The result has been pandemonium. Our community has seen substantial lay-offs, and masses of people have gathered in public buildings to express their opinion about the sudden disruption. One legislative hearing became so heated that a state Senator was evacuated to the hospital after he burst a blood vessel.
My Twitter Town Hall enrollment exercise has unexpectedly become a big, possibly controversial deal. It will be hosted by Congressman Ben R Lujan (@repbenraylujan) from 10 am to 11 am MST on August 14 at the Rio Arriba Health Commons in Española, NM. Our panel of experts includes Attorney General Gary King, State Senator Linda Lopez, Dr. Dale Alverson from the state Insurance Exchange, Julie Weinberg, the state Medicaid Director, Diana McWilliams, the state Behavioral Health Director, and Dave Roddy, Director of the New Mexico Primary Care Association. Radio KDCE (950 am in NM) will be live-webcasting the event to about 50,000 New Mexicans. @ProgressNowNM is helping us to organize the town hall. I encourage all of you to tune in!
Health Action NM is coming out on August 8 to teach our health council members to tweet so we can participate. The hashtag for the event is #HealthierNM.
I would like help from my readers, allies and friends outside of New Mexico.
One of the wonders of Twitter is its versatility. We can use it to live tweet town halls, or to speak directly to the public next time some natural disaster hits. Twitter is also a wonderful way to build relationships with like-minded people who live far away.
Our local live-tweeting team are mostly new users who have no followers. We want to invite you to help us make ourselves heard. Please communicate with us about Medicaid. You can tweet questions and comments beginning August 8 using the hashtag #HealthierNM. And of course, we'd be utterly thrilled if you retweeted our questions and comments and got your friends to do the same.
Thank you!