DC/VA/MD: Join us on April 10th!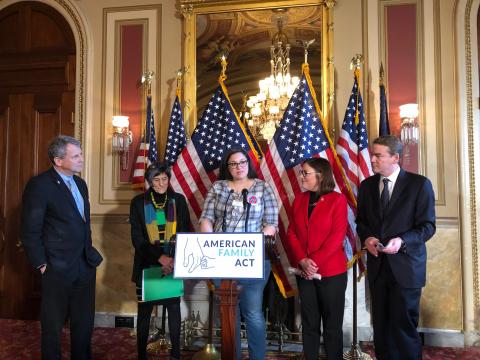 RSVP TODAY! Working Family Tax Credit Day of Celebration!
We've been raising our voices over the last year and elected leaders are listening! That is why we are SO excited about a bill that is being introduced next week that would lift up working families.
***RSVP here to join in our celebratory day of action on April 10th at 9:15am, where Senators Brown (OH), Bennet (CO) and Durbin (IL) will unveil their new plan to fix our broken tax code by lifting up tax credits that boost families!
This is HUGE! And we want YOU to celebrate with us. We are bringing a mom, Julie, from Arizona to tell her story at a press conference and we want YOU and YOUR KIDS to literally back her up! You will be standing alongside Julie and the Senators at the press conference. Afterward, we'll deliver stories and letters from moms around the country to the key Senators who haven't co-sponsored the bill yet, giving them essential info on how working family tax credits are important to families leading up to Tax Day.
JOIN US ON April 10th! Make sure to RSVP NOW to our day of action on the Hill, fighting for a tax code that works for ALL of us!
Here are some details:
Who: Moms, dads, kids, concerned people, U.S. Senators, and partners
What: Press conference for the Working Families Tax Relief Act and delivery to key U.S. Senators!
When: Wednesday, April 10th at 9:15am
Where: Capitol Hill. We will send you the exact ocation as it gets closer to the event after you RSVP! 
RSVP today to join us on the Hill on April 10th at 9:15am!
As a quick refresher, President Trump and the GOP gave $2 trillion in tax cuts to millionaires, billionaires, and mega-corporations in the Tax Cuts and Jobs Act (aka the Trump Tax Scam) last year. This legislation has been harmful to our families, our children's future, and our economy.
Senator Sherrod Brown (OH), Senator Michael Bennett (CO) and Senator Dick Durbin (IL) have listened to the hundreds of thousands of people who have spoken out, just like YOU, and are introducing a new bill that would actually make our tax code work for working families! One major way they are doing this is by making big amazing improvements to expanding the Earned Income Tax Credit (EITC) and the Child Tax Credit (CTC).
***We want to show U.S. Senators that families across the country care about tax credits like the EITC and Child Tax Credit., so make sure to RSVP now! (You can post our RSVP to Facebook or in any local moms listservs/groups you are in). Kids are also welcome and encouraged to come!
We look forward to seeing you on the Hill!