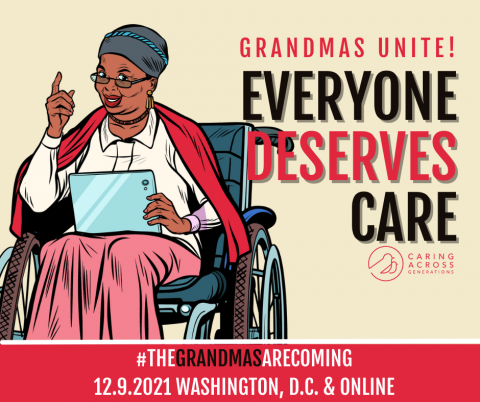 RSVP to Support Grandmothers Fighting for Build Back Better!
Grandmothers have been stepping up in a big way to fill in gaps in care for grandkids and other members of the family during the pandemic. They know first hand how the policies in the Build Back Better Act will help their families, businesses, and the economy. 
That's why, this Thursday, December 9, at 12 noon, grandmothers will be heading to the U.S. Capitol to take the lead in urging Congress to vote YES on the Build Back Better Act.
Can you join us and support our grandma leaders fighting to pass Build Back Better this Thursday? Click here to RSVP. 
This is a rally across generations so that our children and theirs have the care infrastructure that we all need!
What's the urgency right now? The U.S. House just passed the Build Back Better act. Now it's up to the U.S. Senate to pass it too -- before 2021 ends! -- so that working people will finally have four weeks of paid family/medical leave, child care bills will be cut in half for most families, free Pre-K will be open to every three- and four-year old, 35 million families will receive the fully refundable Child Tax Credit, we can begin to address maternal health justice, access to high-quality home care will be expanded for older Americans and people with disabilities, and so much more.
Senate Majority Leader Schumer has promised that a Senate vote on Build Back Better will happen before the year-end holidays! We can't take our eyes off the Build Back Better Act. Not now. Not when we are so close to finally getting the care policies that grandmothers and families need.
Please join us this Thursday and support grandmothers who are speaking out for their families! Be sure to RSVP so we can let you know in case the location changes!!
WHAT: The Grandmas Are Coming: A Rally For Build Back Better!!

WHEN: Thursday, December 9, 2021, 12 noon ET

WHERE: Union Square on the west side of the Capitol lawn off 3rd Street SW, between Constitution Ave NW and Independence Ave SW, near the Capitol Reflecting Pool (see Section 15 on map). *This is an outdoor event. Masks are strongly suggested and supported.

WHO: The Care Can't Wait Coalition, Caring Across Generations, MomsRising, NDWA, SEIU, and other partners, along with many members of Congress
Share to invite your friends and family so they can turn out too in support of grandmas and help fight to pass the Build Back Better Act!