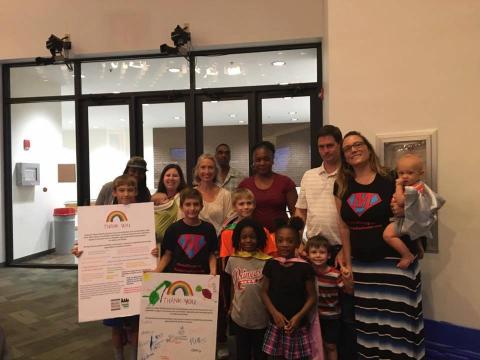 RSVP to our early learning meeting with Cambridge, MA Mayor E. Denise Simmons!
We have a great opportunity to raise our voices in Cambridge, MA about the need for affordable, high-quality early learning, including childcare and pre-k!   
**Join us for a meeting on Wednesday, May 24th with Mayor E. Denise Simmons and her staff to discuss early learning opportunities in Cambridge!
Date & Time: May 24th at 2pm
Location: City Hall-795 Massachusetts Avenue, 2nd Floor. (There are public parking lots throughout the area and the Central T stop is only a few minutes away)
***Your kids and other family members and friends are more than welcome to attend!***
We've set up this high-impact, face-to-face meeting to make sure Mayor Simmons knows how important early learning opportunities—including
high-quality, affordable childcare and pre-K and dual language learning—is to Cambridge families.
**Don't forget to RSVP to our meeting with Mayor Simmons on May 24th! 
Never met with your mayor before? No worries! No experience, other than being willing to share your personal experience, is necessary! We've done all the legwork to set up the meeting and I'll be there to lead the meeting and answer any questions you may have.
You don't need to be an expert on any legislation or early learning to attend. Do you have a story about childcare costs, a pre-K program you love, or your desire for more dual language learning programs in your neighborhood? Then you are ready to go! Lawmakers need to hear from their constituents about how policies impact real families and what they would like to see in their city!
At this meeting we will be delivering the Strong Start for Strong Cities guide, a city resource MomsRising created in partnership with the National
League of Cities and School Readiness Consulting with proven best practices, stories from families, and tools for advancing high-quality
early learning at the city and municipal level. This guide is already making its way into the hands of city leaders across the nation to help inspire them to make affordable, high-quality early learning programs, like pre-k and childcare, a top priority.
We want to start the conversation about early learning with Mayor Simmons on May 24th and continue it for many months to come. Will you join us?
I'm looking forward to seeing you on Wednesday, May 24th!
P.S. Do you have friends, family, neighbors, or even a Facebook moms group that would be interested in attending this meeting? Great! Just
forward them this email or send them the RSVP page and make sure they sign up. The more the merrier and we need your help spreading the word.