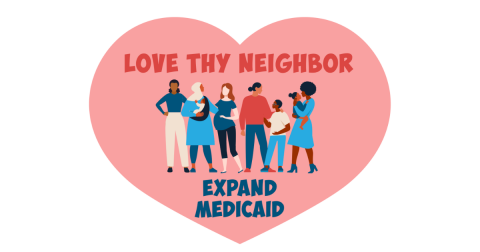 RSVP for "Love thy neighbor" advocacy day to expand Medicaid in NC!
In 2022, North Carolina lawmakers came closer than ever to closing our state's coverage gap and providing healthcare to over half a million uninsured North Carolinians. That's right, after years of a stalemate, we're getting closer to Medicaid expansion and are asking for your help to ensure that 2023 will be the year our lawmakers finally expand coverage for low-income uninsured adults.
On Valentines Day 2023, we're co-hosting a "Love Thy Neighbor" advocacy event at the NC General Assembly, which will include hand-delivering Valentine's Day cards to all NC legislators.
Can you join us on February 14th at the NC General Assembly at 9:30am for a "Love Thy Neighbor" Valentine's Day advocacy event? RSVP here.
What's happening? This Valentine's Day, we want to encourage our lawmakers to do the right thing with a spirit of love, hope, and togetherness. Your voice is essential to ensure that they do.
For more than a decade, lawmakers in NC have refused to expand Medicaid to low-income uninsured adults, leaving more than 1 million North Carolinians without health insurance. Now, after years of advocacy, legislative leaders in both the NC Senate and House are on record in support of Medicaid expansion, and we need to help get it over the finish line!
Right now, negotiations at the legislature are continuing behind closed doors, and we're gearing up for the biggest push yet to get Medicaid expansion in NC done. There are 10 years of research that demonstrates the positive impact of Medicaid expansion, including early detection of life-threatening diseases and a decrease in premature deaths for older adults aged 55-64.
RSVP to let us know you can attend the "Love Thy Neighbor" Valentine's Day advocacy event on February 14th at 9:30am.
What: Love Thy Neighbor, Expand Medicaid Advocacy Day
When: Tuesday, February 14th at 9:30am
Where: North Carolina General Assembly in the 1000 Courtyard, at 16 W. Jones St in Raleigh (parking is available in the museum lot across the street)