Solar energy has treated 2012 pretty well so far. Solar energy helped Germany break a record by producing as much electricity as 20 nuclear stations, will energize Apple's latest data center, and provided Hurricane Sandy victims relief when the superstorm left nearly 5 million in the dark. When the hurricane devastated New York and New Jersey on October 29, Greenpeace dusted off its 10-year-old solar truck, Rolling Sunlight, and headed north. It landed in Rockaway Beach, New York providing power for a community center where people could grab a hot meal, charge their cell phones and get out of the cold.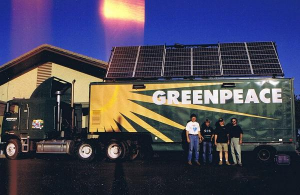 Original solar truck
In its decade of existence, Greenpeace's Rolling Sunlight has been around the block. More than ten years ago, when Greenpeace wanted to demonstrate how solar power could work to provide energy from a cleaner source, we decided to build something that showed what would be needed to power the average US household. It wasn't Greenpeace's first solar display. There have been others along the way, in several countries, including "Cyrus" in the United State in the 1980s, which required the rental of a big rig and a special drivers' license.
In building Rolling Sunlight, as this rendition came to be known, we knew that unlike standard household application, we would have to move the entire thing in order to show as many people in as many places as possible how little they'd need to have their own power. So our 256 square feet of solar panels needed to go onto a truck, which comes with its own complications, such as burning fuel (even if it's biodiesel when possible), and having to carry around heavy batteries, since unlike a house it can't feed back into the grid for credit. All that weight, moving more than 162,000 miles over the last ten years, has taken a toll. Before working in a relief capacity in New York, Rolling Sunlight primarily toured the country visiting college campuses, festivals and fairs raising awareness about solar energy.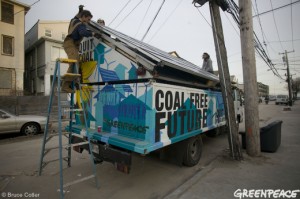 Rolling Sunlight: Repair after Superstorm Sandy
So when Rolling Sunlight arrived in Rockaway Beach, NY to provide power to residents hard hit by Sandy, it limped into place with a few broken welds. And yet, despite all the bumps and miles, the solar panels were able to provide and are still providing power to residents there who who remain without power. Now a coalition of solar companies and organizations have distributed solar generators to areas still without power, a safe and efficient alternative to gas generators. The Rolling Sunlight even helped power a warm Thanksgiving feast for the Rockaway community.
Energy from the sun. Simple. Especially when you don't have to move it around.
Volunteers hand out hot soup to residents at a donation collection/distribution center in the Rockaways days after Hurricane Sandy, where residents are still living with out power, heat, and other basic services, on November 2, 2012. (Photo by Michael Nagle)