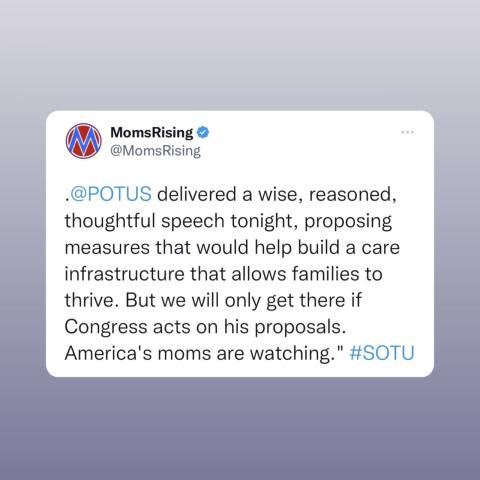 Risers Recap: State of the Union 2023
The 2023 State of the Union address was proof that the powerful work we're doing is being noticed. We nearly covered our entire 2023 BINGO card, many members of Congress proudly donned crayon pins in support of Child Care, several MomsRising members attended with their members of Congress, and Momsrising members were able to share their stories. 

It was a MAJOR day of action for our incredible MomsRising members Washington State MomsForce Leader & mom Angélica and Pennsylvania mom Jessica!
Angélica joined WA Senator Patty Murray for a childcare press conference on Capitol Hill to tell leaders what moms and parents already know: the child care crisis needs a solution *NOW*! After, Angélica and Jessica were invited as personal guests of Sen. Murray and PA Representative Chrissy Houlahan, respectively for the  2023 State of the Union address! 
Throughout the day and at the event, we spotted members of Congress wearing their crayon pins in support of Child Care. And during the address we playing BINGO! Out of 36 words and phrases we hoped would receive attention, President Biden mentioned a whopping 28!
Check out a recap of the day's events below: