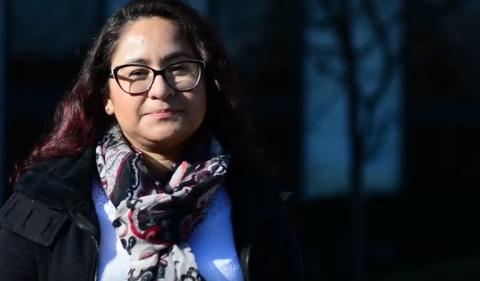 Ripping children away from mothers is unAmerican!
Lives are being put in danger. Today, Monday January 8, 2018, President Trump's administration, through the U.S Department of Homeland Security (DHS), terminated the Temporary Protected Status (TPS) of more than 200,000 Salvadorans. This puts children, moms, dads, families, and people directly in harm's way. [1] TPS recipients will lose job permits, the ability to attend schools, driver's licenses, and the protections they applied for and were given by law.  This doesn't just impact TPS recipients: Many TPS recipients live in "mixed status" families and are parents of more than 192,000 U.S. citizen children.[2] [3] By terminating TPS, parents will be forced to decide whether to be separated from their children or bring them into countries that are still recovering or are dangerous.
This is outrageous!
*Urge Congress to take immediate action to keep mothers, fathers, children, and families together and protect the legal status of 200,000 TPS holders and their 192,000 U.S. citizen children! 
This is unAmerican. The words at the base of our Statue of Liberty, welcoming the "tempest-tossed" to our shores, have in many ways defined our country.  Allowing people to apply for TPS if something catastrophic happens in their country of origin -- like war, famine, a natural disaster, or an epidemic -- is part of our history. However, this life saving protection is being taken away, as is our standing in the world as leaders of hope, freedom, and prosperity.
TPS has long been a legal status that people can apply for when their home country is devastated by war, natural disaster, famine, or epidemic. TPS holders come from countries such as Haiti, Honduras, and South Sudan. They have lived in the U.S. for an average of 19 years, and are the parents of 273,000 U.S. citizen children. [4] With no pathway to citizenship for TPS recipients, they have gone through an expensive and extensive renewal process on a regular basis in order to maintain their status. In this time, TPS recipients have built families, businesses, homes and communities.
*Urge Congress to pass legislation that will keep children and moms together and protect the 192,000 immigrants from El Salvador who currently have legal status in the U.S. because their countries are devastated natural disasters like earthquakes, hurricanes, flooding and increased violence. 
Taking away TPS status, or letting it expire throws hundreds of thousands of families into chaos as mothers and fathers lose their right to stay in the country and are forced to decide whether to divide their families or to take their U.S. citizen children back to dangerous and devastated countries.  
TPS holders are the moms and dads in our neighborhoods. They are our coworkers, our family members, and our friends. They are a part of the fabric of our nation and they fill crucial roles in our society and our economy. They build our nation through construction and infrastructure jobs, they are the doctors and caregivers that help care for our kids and support our elderly communities.  In fact, if our economy loses all of our TPS employees, it would cost the U.S. economy $164 billion over 10 years![5]
Action is urgently needed! The Trump administration has also already ended the program for Sudan, Nicaragua and Haiti, but we can still stop this! We can stand up and speak up now to ask our legislators to pass a legislative solution for renew the TPS status that protects over 300,000 TPS recipients immigrants who came from nations that are unsafe to return to right now.
Every voice raised in support of immigrant families matters and every voice makes a difference in making sure that our elected officials act to protect TPS families. With your voice and your support, we are a powerful voice for ALL families.
** Add to the MoMentum! Ask your friends and family to sign our petition, too, by forwarding this link and sharing it on social media: http://action.momsrising.org/sign/Protect_Salvadorans_TPS_2018/?t=9&ak_proof=1&akid=%2E2065942%2EZ4m0x7
Thank you for raising your voice in support of our immigrant communities!
P.S: Will you submit a Letter to the Editor in support of TPS families? We'll make it easy for you! (including giving you a sample letter you can use) and help you every step of the way.