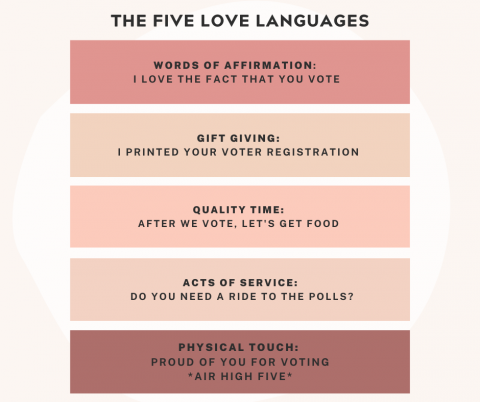 Review the Week: #BlockBarret, Love Languages, Fire & Fear [Oct. 9, 2020]
ICYMI: The MomsRising community is craving love, kindness, freedom from fear, and RELIEF. Together, we have the power to make all of these possible...for so many more Americans. In that spirit, check out these MomsVote posts that you loved, liked, shared or might have missed for the week ending Oct. 9, 2020.
---
1. INSTAGRAM: The 5 Love Languages
We fight hate, and move toward a brighter future, with love. Especially in an election as important as this. 
So it is no surprise that the MomsRising community LOVED this graphic, released just in time for the vice president debate on Wednesday, on both Facebook and Instagram.
SHARE IT YOURSELF: On Facebook and Instagram
---
Like many Americans, MomsRising member Beth Killough braced through catastrophic west coast wildfires this September. As a writer, psychotherapist and leadership trainer, she sees the fires as a metaphor for the upset and trauma too many of us feel in everyday American life, and the opportunities we each have to choose which fire -- fear or empowerment -- runs the show.   
This moment in time, The Great Pause, has forced us to stay -- to see and feel realities we have been able to run from for far too long. 
READ MORE: https://www.momsrising.org/blog/working-with-the-fires-of-fear
---
President Trump's nominee to replace Ruth Bader Ginsburg on the Supreme Court, Amy Coney Barrett, is an extremist pick, and Senate Majority Leader Mitch McConnell is trying to jam her confirmation through the U.S. Senate. But the REAL emergency is the fact that the American people and our economy are in desperate need of a robust, comprehensive COVID-relief package now.
Sign our letter calling on the Senate to focus on what the American people really need right now: A robust COVID-relied package, not the confirmation of an extremist Supreme Court Justice!