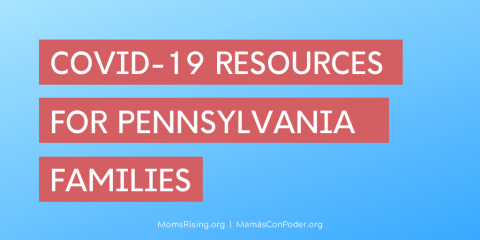 Resources for Pennsylvania Families During COVID-19
Communities across the globe are feeling the effects of the COVID-19 pandemic. It has had disastrous impacts on families everywhere. In response, our PA MomsRising team has compiled a list of resources here to share with our members as they navigate this crisis. The resources below include information on unemployment insurance and paid leave, housing and renter protections, food security, health care enrollment, child care, and resources for undocumented families.
Our resource list is by no means comprehensive – we encourage you to help us keep building the list and making it stronger. If you have a resource you think should be added to this list, or have a need that you would like to see addressed, please email me at taylor@momsrising.org. Please consider sharing this blog post with your friends and followers on social media so that this information finds those who need it. You are not alone, because we are in this together! 
COVID-19
How to talk to children about the Coronavirus
General Help and Support
United Way of Pennsylvania: An information and referral service provided by the United Way of Pennsylvania with connections to services like housing and shelter, food, health care and more. To reach live support 24/7, dial 2-1-1.  The service is free, confidential, and multilingual. 

National Disability COVID-19 Healthcare Support and Advocacy Hotline: Call 800-626-4959 if you are disabled and need COVID-19 related medical advocacy or other support.
How to Apply for Supplemental Nutrition Assistance Program (SNAP, or Food Stamps)
Understanding your Right to Paid Leave & Paid Sick Days under Federal Law
MomsRising Eligibility Infographic that walks you through the steps to find out 

Call A Better Balance's national legal Helpline for free and confidential information about your workplace rights around caring for yourself and your family: 1-833-NEED-ABB (1-833-633-3222)

Frequently Asked Questions: Families First Coronavirus Response Act
Unemployment Insurance Benefits
Governor Wolf has waived the one week waiting period to apply for unemployment, hopefully shortening the period of time people whose employment is impacted have to wait. Go here to file for unemployment benefits. 
For Small Businesses and the Self-Employed
Healthcare
Pregnancy and Motherhood
Mental Health
The National Suicide Prevention Lifeline is 1-800-273-8255 

If you have Medicaid, click on this website, hover your mouse over your county, and then call the number listed.  You will see both a crisis line number and a regular number you can use to make an appointment.  

If you have private insurance: Call your insurance company because tele-health is already available in most cases. 

Call the National Alliance on Mental Illness Helpline at 800-950-NAMI, or in a crisis, text "NAMI" to 741741

A Toll-Free Hope Line has been established for older adults experiencing isolation due to social distancing. Call 1-866-578-4673 or 1-866-578-HOPE
Immigration
Childcare
Emergency childcare hotline for healthcare and other necessary workers: 1-888-600-1685 to be connected with the right fit for their children
Domestic Violence
Internet Service Options
Free or affordable service offerings: You may qualify for no-cost, in-home internet for up to two months during the new coronavirus (COVID-19) outbreak if you also qualify for certain low-income internet programs or have a student living in your household.
Working from Home with Kids?
Fun Online Educational Opportunities
Voting
Advocacy
Opportunity to share your story:  https://action.momsrising.org/survey/CoronavirusStories/ Has your family and community been impacted by the coronavirus (COVID-19) pandemic? Personal experiences are powerful and can make a HUGE difference in helping elected leaders understand why taking critical steps—like passing paid sick days and ensuring COVID-19 testing is widely available—are essential to the health and well-being of our communities.