Report from the Front Line: The Concession Stand
DALLAS, TX -- Since Hector P. Garcia Middle School joined the Alliance for a Healthier Generation's Healthy Schools Program two years ago, nurse Sandra Coleman has been intent on making impactful changes. She is greatly concerned by the increase in childhood obesity rates and has learned that sometimes gradual changes and compromises are necessary to win over the minds, hearts and stomachs of students and staff.
Hector P. Garcia Middle School, in Dallas, has a newly active PTA group that wanted to raise money to support school activities. They decided to start an afterschool concession stand. Coleman said, "I lamented to the PTA President that while I understood the need to raise money, the selection at the concession stand was killing my healthy school efforts!"
Rather than insisting that the parents get rid of all of the unhealthy choices, Coleman asked if they could add some fruit options. "I know that kids like fruit and I felt pretty certain that if given fruit as an option, many would make that choice over chips or candy," she said. The next day they made fruit cups with "sticks" of melon, cucumber, jicama, orange slices and strawberries. "They were beautiful," said Coleman, "but we only sold two!" Concerned that maybe she was wrong, Coleman decided to try again the next day and the students flocked to the fruit. Since that day they have sold 40 to 50 fruit cups a day. Then Coleman worked with the parents to change some of the other snacks sold to include only baked chip options and the drinks to water and 100 percent juice.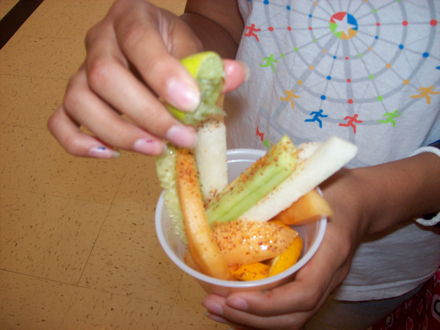 "While the whole concession stand has not been completely reworked," Coleman said, "it has shown that change is possible and can still be profitable. The students are now upset when the fruit isn't available and that sentiment goes for the staff as well." Teacher Rosanna Santiago shared, "The fresh fruit is awesome. The kids as well as the teachers are hungry at the end of the day. It is good to have the option of a healthy snack that is readily available."
PTA President Ana Arrona said, "I was surprised that the kids chose the fruit. They now expect it and if we are unable to offer the fruit cups the kids ask us why it's not here. I really thought we would lose some of our profit, but we have actually been making more money."
Coleman reports: "We are still evolving as a campus in our quest to be a 'Healthy School' but seeing such success without a tremendous amount of effort is encouraging. So I look forward to more programs geared toward getting us all moving a bit more and cooking lessons to help us make healthy options at meal time."