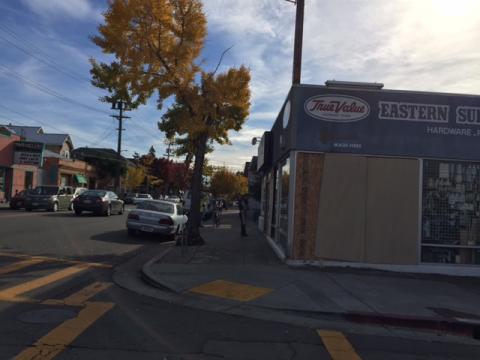 Report From My Town: The Berkeley 'Looters' Are White
BERKELEY, Calif. – On Sunday, I achieved a milestone: I finished a 13.1-mile trail run largely uphill just north of San Francisco. When I was done, I could barely walk, but I was on a high: I did it!
When I got back to my car, my heart seemed to skip a beat.
I had a couple of missed phone calls and urgent text messages from family out east wondering if I had survived the "riots" and "looting" in Berkeley. I bristled at the use of the words because they are so racially charged. Whether the aftermath of the Rodney King beating or Katrina, "looting" is a word often used as racist shorthand to implicate Black people in the destruction of local property – or at least that's how it is portrayed in the media. The stereotype is so ingrained in our culture that I even wondered if my family was talking about Oakland!
I called and texted back assuring my family that the protests have been largely peaceful but "of course a few bad apples get all the attention."
I still believe that. But after three nights of very little sleep due to roaring news helicopters and screaming police sirens there is another, albeit small, group of people on my last nerve: violent white protesters – some in masks -- who are shattering storefront windows with hammers and agitating the police.
This is not solidarity. This is full-on white privilege. 
For one, there is an irresponsible disregard for our country's history of racism. If there is any vandalism or belligerent behavior at a protest we know very well who is going to be blamed for it. For the most part, it's not going to be white people.
As for the vandalism of local businesses, I am saddened and incensed. I live in south Berkeley, and many of these local businesses are owned by people of color, serve people of color, or in the case of the supermarket up the street from me, are diverse and hire union workers. As a proud member of this community, I feel violated.
I understand people's need to protest. I really do. I can't get Leslie McSpadden -- Michael Brown's mother -- out of my head. If my child were killed by police and I received not so much as a trial, I don't know what I would do. As an ally, I've taken action right here at MomsRising, tweeted about it, posted on my Facebook page, and at the risk of seeming obsessed with this issue, I engage with everyone I meet on it.
Which leads me to my point: sharing facts is uncomfortable. And it can be the most radical form of protest. Dr. Martin Luther King, Jr. once said, "I believe that unarmed truth and unconditional love will have the final word in reality. This is why right, temporarily defeated, is stronger than evil triumphant."
Most of the protesters in Berkeley are white. See the photo below by our local news site Berkeley Side. I can't help but wonder if all these White folks' passion and time could be harnessed in a more productive way. Imagine if each of those protesters wrote an email, made a phone call or posted a direct Facebook message to one white person who may not have his or her facts straight on events in Ferguson, Cleveland and Staten Island? Would it be uncomfortable and even painful to engage with loved ones who disagree with them? You bet. However, that is radical direct action!
The other night as I was smarting over the use of the words "riots" and "looting" by family members, I did what I thought was within my power. At 1 in the morning, I opened my laptop and posted on Facebook:
"First off: my family is safe and tucked warmly in bed. Many buildings like our local Walgreens had their windows smashed and there's graffiti scrawled all over the place. But we are safe, which brings me to a couple points I want to make: by far, the vast majority of protesters have been peaceful. It was a handful of self-proclaimed anarchists who caused it to get out of hand. Also, I hate the terms "looting" and "rioting" as they are so racially charged. Last night, the masked anarchists who were arrested were...WHITE. See for yourself here…"
Indeed, the "looters" are white. That's a fact. Let's start there, by sharing facts and not fear.