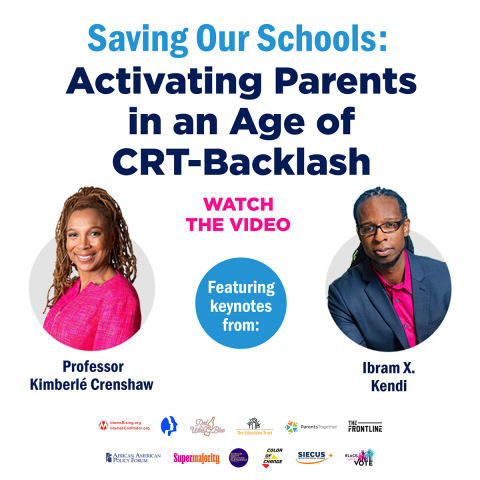 Recap: 'Saving Our Schools: Activating Parents in an Age of CRT-Backlash' Teach-In
On October 25th, 2022, parents across the country joined MomsRising and partners for a virtual teach-in on truth over fear and to learn ways to advocate for safe, honest, and inclusive education as the foundation of a just democracy. 
The event featured keynotes from Professor Kimberlé Crenshaw and Ibram X. Kendi, parent stories, and ways to take action! Click to watch!
Education is the cornerstone of multiracial democracy and schools are where we learn to engage in society in meaningful ways. Still, parents, students, and educators across the country are experiencing a climate where far-right attacks have made our schools playgrounds for partisan politics and racial division - through book bans, anti-critical race theory legislation, attacks on LGBTQIA students and educators, bans on comprehensive sex education, and ignoring the calls for student mental health support.
MomsRising had the pleasure of collaborating with twelve amazing organizations in discussing a wide-array of topics pressing students and parents. The event started with keynote addresses from Dr. Kimberlé Crenshaw and Ibram X. Kendi. Dr. Crenshaw is a professor of law at UCLA and Columbia Law School and is a specialist in race and gender equality. Ibram X. Kendi is one of America's most foremost historians, leading antiracist scholars, and has been named one of 100 most influential people in the world. To hear both of these amazing leaders speak on their experiences and work was a true privilege. 
The teach-in began with African American Policy Forum speaking on book bans and the attacks on critical race theory (CRT). AAPF provided important tools in how to combat book bans in our communities and how to address CRT in a constructive manner. They provided a powerful insight in debunking current myths surrounding CRT and the accurate historical context. 
Watch:AAPF: Pushing Back Against Book Bans & the Attacks on Critical Race Theory (CRT) and Getting To Honest and Inclusive Curriculum.
SIECUS led the second section on pushing back on harmful attacks on LGBTQIA students and comprehensive sex education. It was a powerful section in which SIECUS discussed the importance of how to contact state representatives. They highlighted testimonies from members on the importance of advocating for comprehensive sex education and the impact it had on their lives. 
Watch:SIECUS: Pushing Back on Harmful Attacks on LGBTQIA students and Comprehensive Sex Education
Part three was led by MomsRising, in which we spoke on the importance of mobilizing for school health and safety. We centered our discussion on our work with the Counselors Not Criminalization legislation. One of our members spoke of her and her child's experience with trauma that was inflicted upon them by police and a school system that failed them. 
Watch:MomRising: Mobilizing for School Health and Safety - Counseling not Criminalization!
The final section of the teach-in was led by Red Wine and Blue, who spoke about running for school board. They provided an excellent step by step approach to learning the basics of running for school board and the community impact. Red Wine and Blue ended the section with a powerful discussion of why there needs to be more women of color on school boards. 
Watch:Red Wine and Blue: Running for School Board!
This teach-in was the culmination of months of hard work and dedication on behalf of all these amazing organizations. MomsRising is proud to work and learn from these organizers who are creating change. In addition to the teach-in, MomsRising has created a digital toolkit that has all the important information from the event. In addition, it has downloadable one-pagers, links to petitions, informational videos, and much more. 
Check out and download our comprehensive digital toolkit with resources for taking action and activating your community!