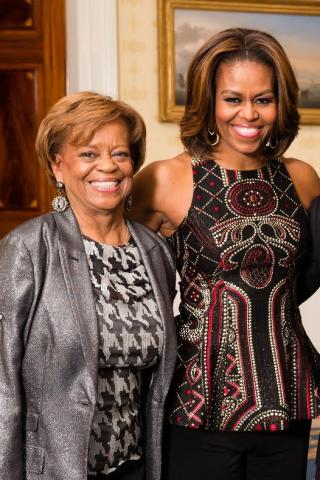 #ReachHigher: One of the Greatest Lessons I Learned From My Mom
One of the greatest lessons I learned from my mom was about the importance of education. 
Neither she nor my father had gone to college, but they were determined to see me and my 
brother get a good education. So starting when I was young, my mom volunteered at my school, 
helping out in the front office and making sure my teachers were doing their jobs and my school w
as running like it should be. 
My mom wasn't a teacher, or principal, or school board member, but she believed that our 
education was very much her business. And while I was occasionally mortified by her presence 
at my school, in retrospect, I have no doubt that my classmates and I got a better education 
because she was there, keeping an eye on things. 
Today, we need more people like my mom – people who think the education of our young 
people is their business, because it is. In my work on this issue as First Lady, I'm constantly 
thinking about the example my mom set by ensuring I got a good education. I hope I can do the 
same for our next generation.