It was one of those mornings when I was in a hurry, but the universe had other plans.  I sat my groggy four-year old down with a buttered bagel so I could rush to get ready while she ate, but when I came running back to her, I saw that she had placed a favorite coffee-table book in front of her and was quietly, deliberately dropping crumbs on the page.  Not only was Sophia oblivious to my urgency to get out the door, but there was a new mess to clean, right on top of a cherished book.
When I demanded, "What is going on?"  She gently answered, "Mommy, I want to share my bagel with them." I looked more carefully at the open page.  She was looking at the book Hungry Planet: What the World Eats, specifically on the photo of the family from Mali, West Africa.
That's when I forgot about the rush to get out the door.  With my two older daughters, both in middle school at the time, we had been talking about compassion and the idea that humanity is like a single body – when one part is hurt, even if it's seemingly insignificant, like a tiny splinter on their pinkie, we feel it all over and it can get in the way of our doing and feeling our best.  Pain and suffering far away do affect us, even if we don't personally know the country or the people.  Sophia must have been listening.
After glancing at other photos of families from around the world, flush with diverse colors, shapes and types of abundant (mostly processed) food in the glossy book, she fixated on the Malian family, fifteen people in one home, all with beaming smiles and showcasing their simple food for a week.  Her reaction: to share. No one was around to tell her it was the right thing to do, or to guilt her in to giving.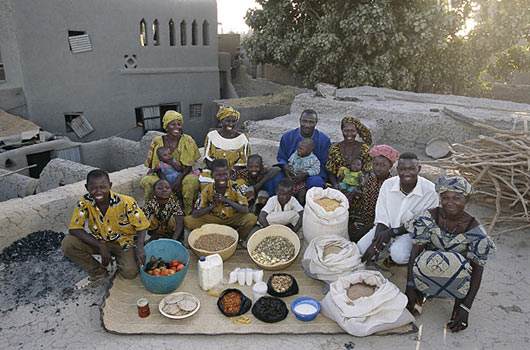 Photo Source: Hungry Planet: What the World Eats, Peter Menzel and Faith D'Aluisio (Berkeley, CA: Ten Speed Press, 2005)
The take-away for me was powerful.  Children have an incredible capacity to care, to give, and to empathize, from a very young age.  It has nothing to do with pity.  An instinct for justice comes naturally to a young child, who is free from skepticism, prejudice and doubt.
When parents see that kernel of compassion in our children we want to cultivate it.  And when world leaders come together to debate the big questions of our time, like they do each September in New York for the opening of the UN General Assembly, issues of poverty and peace make headlines that we can explore at age-appropriate levels with our children.  Like the development of a muscle, this awareness often grows undetectably, but can be deliberately nurtured.  Here are five steps I've found to help empower kids to care and want to make a difference.
5 Ways to Cultivate Caring in Kids:
Talk about it.  When you see qualities like compassion and generosity displayed, point them out, whether it's at the dinner table, while grocery shopping, or in a movie.  Without our realizing, Sophia was paying attention to the conversations on service, friendship and caring that we were having with our older daughters.  Discussing complex ideas through these positive qualities, or virtues, helps them frame difficult situations, nearby or far-away.
 "Be a friend to the whole human race."  When you widen your circle of friends to include people from diverse backgrounds, your children can imagine that anyone who looks and lives differently from them could be their friends.  We had friends from West Africa, with similar clothing as the family in the picture, so the family in the photo didn't seem so foreign to our four-year old. Sharing comes naturally among friends.
Learn about causes - together.  Feel empowered to be part of the solution to global poverty by learning about the Millennium Development Goals. These eight practical, achievable objectives were adopted collectively by the world's leaders to stamp out extreme poverty by 2015.  In Growing Up Global, I include a framework for discussion and simple action steps on the Goals for kids of all ages.
Embrace a cause.  Of the Goals, is there a specific one that tugs at your heart or that has impacted your own family, like education or maternal health?  Once you decide on an issue, you can look up action initiatives and causes in Growing Up Global, on globalcitizen.org, unicefusa.org, or on globalgiving.org.  Lemonade stands, book drives, haircuts, movie nights, 10K races, babysitting, skipping a snack – when these efforts are dedicated toward helping others, they go from mundane to unforgettable.
Nurture inspiration.  From Nobel Peace Prize winners to so many great causes started by kids and TV events, learning real stories about real people making impact can inspire kids to follow their dreams for a better world.  Watch the Global Citizen Festival Central Park concert livestreamed on September 29.  Global Poverty Project founder Hugh Evans started his quest to end world poverty when he was just fourteen years old and his effort continues to gain momentum and supporters fifteen years later.  Tuning in to the concert is a wonderful way to imagine how far dreams and ideals can go in touching hearts and helping lives.
How do you raise kids who want to make a difference? What will you do to end extreme poverty?
###
Homa Sabet Tavangar is the author of Growing Up Global: Raising Children to Be At Home in the World (Ballantine Books, 2009) and www.growingupglobal.net.  This post originally appeared on The Global Poverty Project blog.